Compassion Resilience Project: Support for the animal care and use community!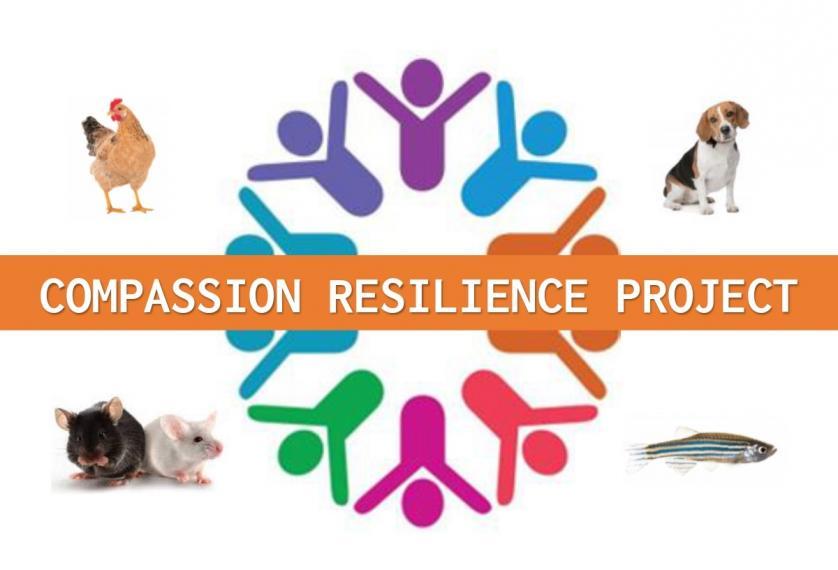 When supporting animals used in research, it is common for staff to experience emotional distress, fatigue and burn-out due to compassionate caring. Compassion resilience is therefore extremely important to develop and foster by ensuring animal care and use staff feel valued and emotionally supported.
The Compassion Resilience Project is facilitated by the Compassion Resilience Committee (CRC), U of G members of the animal care & use community. 
Mission Statement: The CRC will foster a culture of compassion and resiliency to ensure that the animal care and use community feels valued and emotionally supported while upholding the highest standards of animal ethics at the U of G.
This mission will be achieved by providing resources (virtual and in-person) that will:
Foster a safe space to discuss experiences.
Offer tips and tools for building and maintaining resilience in the animal care setting.
Instill feelings of value, community-connection, and fun.
Compassionate Chat Circles
What is it? 
A safe space for peer-to-peer support within the animal care and use community. The Compassionate Chat Circle is not facilitated by mental health professionals and is not a counselling group.
This resource is for: U of G employees and students working directly or in-directly with animals in research and/or teaching.
What should I expect?
1-hour in-person gathering led by 2 peers with discussion starters, leading to a group conversation. 
Compassionate Chat Circle Dates: 
Make sure to register for the dates above!
Michelle Cieplak

Bio: I am an RVT, RLAT who has worked in research for over 15 years and has worked in multiple veterinary practices.  I love to spend time with my family, and 2 cats and dog.  I enjoy travelling, playing volleyball and currently learning how to sail and play pickleball.

Myles St-Denis

BIO: I am a DVM student (Phase 1) with an MSc in Molecular and Cellular Biology and my research background is in Neuroscience. I have about 4 years of experience in research working with animal models and a couple years of experience working in veterinary clinics and hospitals. I like to spend my free time outdoors either hiking, fishing or canoeing. I love animals, especially dogs, cats, rats, frogs and newts.

Francesca Pharo

BIO: I am a master's student in OVC's Department of Population Medicine studying Salmonella Dublin in surplus dairy calves.  I love the mountains, hiking, swimming, skiing, and have recently enjoyed taking up running and rock climbing.  I also am happy to get to spend some of my free time with my horse, who has come with me to both university's I have attended.

Theresa Martin

BIO: I am a master's in science (Neuro) graduate with an RLAT. My main passions focus on topics in animal-human relationships, refinement of procedures and compassion fatigue resiliency amongst the animal care & use community. I am at my happiest when I am backpacking, speaking French or playing the ukulele.

Léna Levison

BIO: I am a veterinarian who has been with Animal Care Services for 10 years and I also work in the Saputo Dairy Care Program with CCSAW & Pop. Med. Earlier I worked as a mixed animal veterinarian and completed an MSc in animal behaviour and welfare. I have two crazy Boston terriers, like to sing and play volleyball. I love to talk, I love to listen and look forward to meeting you at the CCC.

Michaela Randall

BIO: I am a Registered Lab Animal Technician (RLAT) at the Central Animal Facility. I completed an MSc in animal behaviour and welfare, with my research focusing on compassion fatigue in laboratory animal professionals. I enjoy reading, baking, playing volleyball, hiking with my dog and husband, and hanging out with my pet rats.

Jana Michaud

BIO: I am a Registered Master Lab Animal Technician (RMLAT) and Registered Veterinary Technician (RVT) at the Human Health and Nutritional science dept. My passion is training and teaching students about the animals we work with and sharing the joy of success with them. Outside of work, I enjoy CrossFit, Highland dancing with my girls and spending time at my cottage with my girls, husband and three dogs.
Questions?
Email compassioncrc@uoguelph.ca for more information.