READY-SET-binGO: Healthy Workplace Month Contest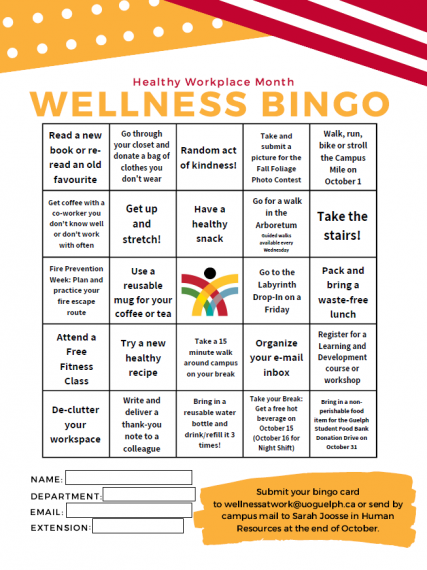 What is Wellness Bingo?
It's a way for you to improve your health and well-being at work and get entered to win prizes for your participation!  
How does it work?
View the poster/instructions and the bingo card for Healthy Workplace Month attached.
All you need to do is print the bingo card and mark off squares as you complete them.
You have an entire month to work towards finishing the whole card!
How do I enter the draw?
At the end of the month, you can email or send in your card and you'll get entered to win.  You get one entry per line up to 3 lines, and 5 entries for accomplishing every square on the card.   Submit your bingo card to wellnessatwork@uoguelph.ca or send by campus mail to Sarah Joosse in Human Resources at the end of October.