How to Stay Connected while Physical Distancing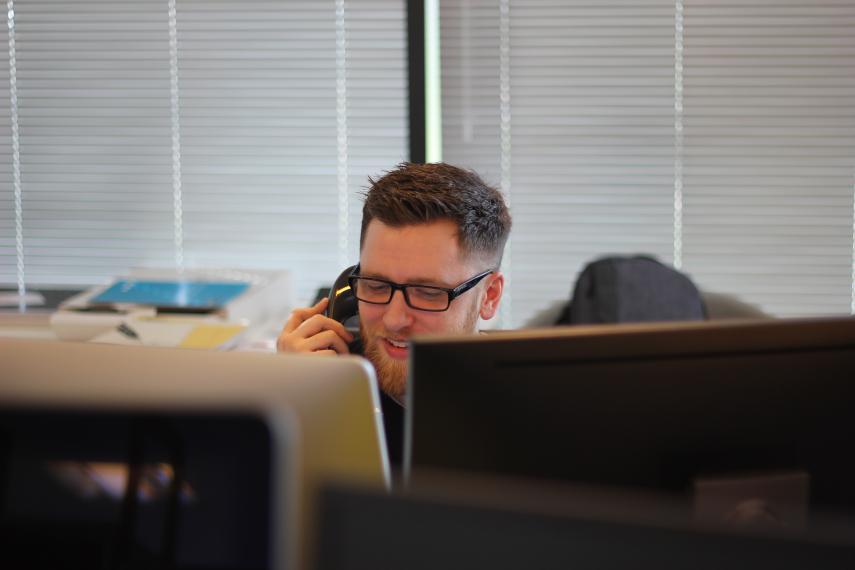 We know that human connection is important to our overall wellness, as humans are innately social beings.  The rapid spread of COVID-19 has caused new measures to be put in place in Ontario, including physical distancing.  You can learn more about physical distancing and tips to keep you healthy and reduce the risk of infection on our Wellness@Work blog.
People who are self-isolating or in quarantine may experience a range of feelings including fear, sadness, loneliness or confusion.  
"The effort to address COVID-19 is both extremely important for us all and poses a range of challenges on individuals and families as they respond to the demands of the situation The situation is stressful for everyone and it is normal to be anxious and worried." -CAMH, 2020
Self-isolation may also bring new opportunities for reflection, gratitude, open-mindedness and innovation. 
Physical distancing does not need to mean social isolation.  Here are some tips to help you stay connected while practicing physical distancing:
Create a Routine & Practice Self-Care
Make a schedule for your week that outlines time for social connection with friends and family, work, physical activity, meals, chores, things you enjoy doing and sleep. 
Build self-care into your daily routine with time to read a book, listen to music, have a bath, meditate or do something else that helps to restore you.  Make sure you are taking media breaks throughout the day.
Try to prioritize some time to connect with others virtually each day.
Use Technology to Connect Face-to-Face
Stay connected with colleagues, friends and family virtually by videoconference, phone, chat or text.  Take advantage of websites or apps that you already enjoy using to connect with others.  
Take time to listen and support one another, as positive social support can help build our resilience to cope with the stress.
Get Creative to Connect
Write down things you usually enjoy doing with your colleagues, friends or family and brainstorm ways that you can do them remotely.  Below are some ideas:
If you often go to the gym at lunch with colleagues, encourage them to join you on Instagram at 12pm to do a live workout with "gryphons_fitness."

If you enjoy going to the movies with your family or friends, try out Netflix Party to virtually watch a movie together from your own homes.

Have a virtual dinner party with your family or friends, sitting down for dinner at the same time and connecting by video chat.

Ask a friend to teach you a new skill like painting, knitting, baking, etc. on a video chat.

Part of a regular book club meeting? Explore hosting your book club by virtual videoconferencing to catch up and discuss the book.

Stream a live concert with other fans, as many musicians are now playing shows from the comfort of their own homes.

Take time to write a letter to a loved one and send it in the mail.  The prosocial act of writing a kind letter may help increase your feelings of connectedness to others.
Cultivate your Community
Stay connected with volunteer organizations or community groups that are important to you.  Reach out and offer your help if there are tasks that can be done remotely. 
If you are able, reach out to support those in your community who are most vulnerable and offer a helping hand.  Showing kindness to others can boost your sense of purpose and improve your wellbeing.
Foster Family Time
If you live with others, find ways to spend quality time together away from your screens.  Plan activities that you all enjoy.  You might want to try a new puzzle, create an art project, play board games or go for a walk in your neighbourhood.
Practice Gratitude
Focusing on the things we do have and things we are grateful for can help boost our feelings of happiness.   Notice the good things around you and take time to live in the present moment.  You could list 3 things you are grateful for each evening, write in a journal, create a visual scrapbook or share around the dinner table. Integrate gratitude practices that work best for you.
Be Kind to Yourself 
For most of us, this is a new normal that is full of uncertainty.  The strategies shared here may take some time to integrate into your daily life.  Remember to have self-compassion and recognize it's okay to continue practicing the strategies that work for you. Take it one day at a time and do the best that you can do, without judgement.  
Reach Out for Support
If you are looking for resources or supports to help you navigate this uncertain time, remember that access to counselling is available to U of G employees 24 hours per day, seven days per week through the University's EFAP provider, Homewood Employee Health toll-free at 1-800-663-1142.
You can also call 1-844-HERE247 (1-844-437-3247) anytime to access addictions, mental health, and crisis services.
Additional wellness resources to help you thrive in uncertain times are available on the blog tab of our Wellness@Work website.
Learn more about physical distancing from the Government of Canada's "Social Distancing" web page.