Mindful Mondays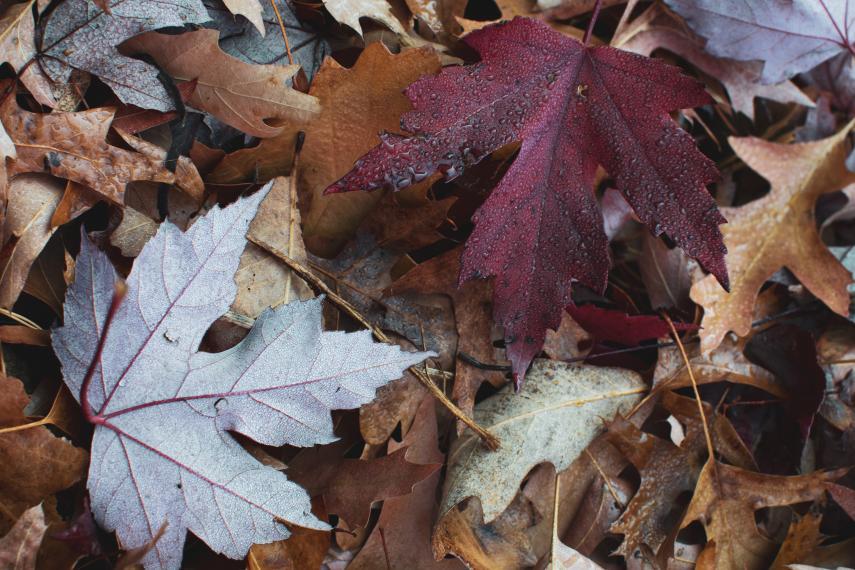 Fall is my favourite season. Something about the vibrant colours, falling leaves, and crisp air makes me pause and appreciate the beauty all around us.  For me, October has always brought a renewed focus on mindfulness and gratitude in my everyday life.

This Fall in particular, I am finding the importance of infusing mindfulness into my day and wanted to share a few tips that have helped me over the years.
But first… what is mindfulness?
Mindfulness is having a moment-by-moment awareness of our thoughts, feelings, and experiences without judgment.  It is taking a closer look at the right here and right now.  A well-known researcher in this field, Dr. Jon Kabat-Zinn, has stated that mindfulness is, "the awareness that arises from paying attention, on purpose, in the present moment and non-judgmentally" (2015).
Why practice mindfulness?
Mindfulness is good for our bodies and brains. There are many well researched benefits of mindfulness for your overall health and wellbeing. Some of the benefits of mindfulness include:
Increases positive emotions, and reduces negative emotions

Reduces stress

Less rumination

Enhances working memory

Increases focus

Enhances relationships
Read more benefits of practicing mindfulness on the Greater Good Science Centre website.

At a time in our world when there is so much uncertainty, worry, and fear, mindfulness can be a helpful practice to add to your resiliency toolbox.
Mindful Monday Tips
Below I've compiled my top Mindful Monday tips to help you also bring a renewed focus to mindfulness throughout the month of October.  Try the suggested tip each week and try to build it into your daily routine.  It may take some time to find an approach that works best for you, so practice a lot of self-compassion and be patient with yourself.
Oct 5: 

Mindful Breathing
​​​​​​A focus on your breath is foundational to practicing mindfulness. Wherever you are sitting or standing, find a comfortable position and close your eyes or lower your gaze. Notice and relax your body. Start by taking a few deep breaths. Notice where you feel your breath in your body as you continue to inhale and exhale.  If your mind starts to wander, simply acknowledge your thoughts or feelings, let them go and re-direct your attention to focus on your breathing.
If this is your first time, start with just 30 seconds and work your way up to 5 minutes or longer as you become more comfortable with the practice.
You can do mindful breathing anywhere, anytime. Below are a few guided breathing exercises you might enjoy:



Oct 12: Mindful Eating  
The Thanksgiving long weekend often brings families and friends together over a shared meal.  This year will look very different; however, you can use any meal to put mindfulness into practice by noticing and savouring your food. Often, we are so busy around mealtimes that we quickly eat our food while also having distractions like TV, email, scrolling social media, children fighting and more.

Mindfulness encourages us to put away those distractions while we cook and eat uninterrupted.  Slow down the pace that you are eating and re-connect with your senses. Really savour all the flavours, smells and textures of each bite. As you start noticing your food more, you will be more present and less stressed.  Learning a mindful approach to eating can also offer the opportunity to eat without any judgment, guilt, or anxiety, as you develop a healthier relationship with food.

Below are a few resources that dig deeper and provide tips and tricks for mindful eating:

Oct 19: Mindful Exercise 
You may think mindfulness is just for those quiet moments you have alone on the couch or in a chair; however, mindful practices can be done anywhere that you are, including your favourite spot to exercise. 

Before even starting to exercise, think about your intention, motivation, and goals for the workout.  Throughout the workout, focus on breathing steadily and be mindful of your form and posture. Notice and tune into what is going on around you- noting sounds, smells, or physical sensations. During and after your workout, listen to signals from your body. Stay focused on your breath and take note if your body needs a break.
Below are some additional resources and guided meditations for running and walking: 

Oct 26: Mindful Communication
Being mindful as we communicate with others can really impact the quality of our relationships and improve our sense of connection. 

In communicating with others, try to think about your intention and how you want to show up to the conversation. Make yourself fully present for the interaction and focus on your breathing.  Below are a few principles by Mindful.org to practice for more mindful communication:
Listen: Take the time to genuinely listen to the other person.  People are more likely to engage in a productive discussion if they feel heard.
Notice: Be aware of how your body is responding to the conversation and practice self-awareness of your emotions.
Reflect: Spend some time reflecting on what you are hearing and what you want to say.  Practice empathy and show understanding.
Below are a few resources with strategies to have more mindful communication:

Mindful strategies can be incorporated into any activity throughout your day. Think about your daily routine and ways you can infuse more mindful practices into your everyday life. For example, your morning routine, driving, meetings, showering, cooking, brushing your teeth, or communicating with others. Start paying attention to those daily activities that likely have just automatically become part of your routine with a renewed focus.
Resources 
If you are interested in learning more and finding some new practices that work best for you, check out the following resources: