Adult small ruminant mortality project
More submissions needed for the Adult Small Ruminant Mortality  Project!  
Maria Spinato, Jocelyn Jansen, Paula Menzies, Andria Jones-Bitton, Jeanette Cooper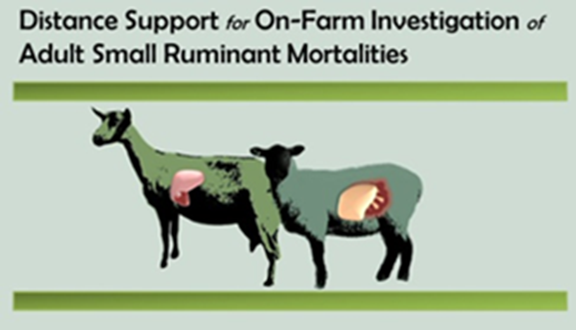 The AHL, OVC, and OMAFRA have received funding to conduct a joint study investigating adult small ruminant mortalities. The objectives of this study are:
1. To determine why adult sheep and goats are dying on-farm.
2. To determine if a web-based postmortem information and case submission system can be used to increase the usefulness of    on-farm postmortems.
3. To determine if better disease diagnoses can increase discussions between producers and their vets, so that they can create sound flock/herd health and biosecurity plans.
The project will fund:
Þ tissue collection kit and shipping fee,
Þ AHL laboratory test fees,
Þ compensation for veterinarian performing the on-farm postmortem.
In return, the veterinarian will submit:
Þ a complete set of fresh and formalin-fixed tissues, as per project protocol,
Þ a set of 6 postmortem photographs that are uploaded to the website,
Þ postmortem submission form with all required information, also uploaded to the website.
Funding support is being provided by the OMAFRA-University of Guelph Partnership KTT Program and the Ontario Animal Health Network. Thanks to the generosity of these agencies, ~170 postmortems of adult sheep and goats will be paid for by project funds. A standardized test panel has been developed to check for the diseases of greatest importance to the small ruminant industry.
The maximum number of case submissions per veterinarian has been increased from 3 to 6 cases (must be a different clinical problem if multiple submissions per farm).
For more information, contact the project administrators at sr.mort@uoguelph.ca or log onto the project website at https://www.uoguelph.ca/srmort/veterinarian/
---
AHL Newsletter
December, 2017 - Volume 21, Number 4
       Editor: Grant Maxie, DVM, PhD, Diplomate ACVP
       Editorial Assistants: Helen Oliver, April Nejedly
The AHL Newsletter is published quarterly (March, June, September, December) by the Animal Health Laboratory, Laboratory Services Division, University of Guelph.
Its mission is to inform AHL clients and partners about AHL current activities, and laboratory-based animal disease events and disease trends. All material is copyright 2017. Ideas and opinions expressed herein do not necessarily reflect the opinions of the University or the Editor.
Articles may be reprinted with the permission of the editor and with appropriate credit given to the AHL Newsletter.
Mailing address & contact information:
Animal Health Laboratory
Laboratory Services Division, University of Guelph
Box 3612, Guelph, Ontario, Canada  N1H 6R8
Phone: (519) 824-4120 ext. 54538; fax: (519) 821-8072
To receive an electronic copy of this Newsletter, please send your email address to us at holiver@uoguelph.ca
ISSN 1481-7179
Canada Post Publications number - 40064673
Contributors to this issue
- from the Animal Health Laboratory:
Melanie Barham, DVM, PMP
Marina Brash, DVM, DVSc, Diplomate ACVP
Emily Brouwer, DVM, DVSc, Diplomate ACVP
Michael Deane, BA
Josepha DeLay, DVM, DVSc, Diplomate ACVP
Jim Fairles, DVM, MBA
Murray Hazlett, DVM, DVSc, Diplomate ACVP
Elizabeth King, BSc, MSc
Davor Ojkic, DVM, PhD
Kristiina Ruotsalo, DVM, DVSc, Diplomate ACVP
Maria Spinato, DVM, DVSc, Diplomate ACVP
Other contributors:
Jaimee Gardner, BSc, DVM, Paisley, ON
Jocelyn Jansen, DVM, DVSc, OMAFRA, Elora, ON
Andria Jones-Bitton, DVM, PhD; Jeanette Cooper, BSc;   Paula Menzies, DVM, MPVM, Dip. ECSRHM, Pop Med; Courtney Schott, DVM, Pathobiology, OVC, Guelph, ON
Lloyd Weber, DVM, Guelph, ON
Our continued thanks to all of the non-author AHL clerical, technical, and professional staff who contribute to the generation of results reported in the AHL Newsletter.
AHL Newsletters and LabNotes are available on the WWW at - http://ahl.uoguelph.ca