AHL Newsletter, March 2017
Click here for a pdf copy of the March 2017 AHL Newsletter. 
AHL has an improved website!
                 Jim Fairles, Josie Given
 Same url: www.ahl.uoguelph.ca
 Most documents are html.
 User's Guide and Fee Schdule are readily accessible from mobile devices.
 Please email ahlinfo@uoguelph.ca if you do not have the username and password for the Fee Schedule – this is only available to veterinarians.
 Diagnostic Plans coming soon!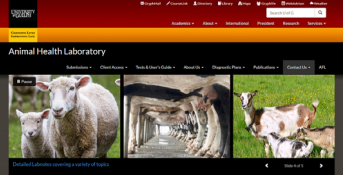 ---
Bacterial and viral transport media Jim Fairles
One of the most important aspects of laboratory work is the actual sampling and handling of the samples prior to being received at the laboratory.
Bacteriology and Mycoplasmology - AHL prefers a regular gel-based bacteriology swab.
Virology - AHL prefers virus transport medium (VTM) swabs for virology PCR tests. For some testing (PEDV), a fecal swab in VTM is preferred rather than feces. Regular gel-based bacteriology swabs are unsuitable for PCR testing. Dry swabs moistened with sterile saline in a sterile container can be used, but VTM is preferred.
---
Carl Block Award to Dr. Grant Maxie
The Canadian Animal Health Coalition (CAHC) has named Dr. Grant Maxie, Director of the Animal Health Laboratory, University of Guelph, as the 2016 recipient of the Carl Block Award. Through his hard work and dedication, Dr. Maxie has made many significant contributions to the Canadian animal health industry.
Each year the CAHC presents the Carl Block Award to an individual nominated by his or her peers for outstanding contributions in the field of livestock animal health. This award is in memory of Carl Block, who was chair of the CAHC when he passed away as the result of a small plane crash in May 2002. "I accept the award on behalf of the great team of people that I work with in the Animal Health Laboratory and Laboratory Services Division. It's easy to look good when you're surrounded by excellent colleagues," says Dr. Maxie.

From the OVC Bulletin: http://bulletin.ovc.uoguelph.ca/post/154092010625/dr-grant-maxie-receives-2016-carl-block-award  
---
Selected AHL Ontario outreach activities, 2016
AHL newsletter - 39 scientific articles in 2016.
Barham M. Ontario Animal Health Network: A collaborative approach to poultry surveillance. Poultry Health Research Network, Seminar Series. PAHL. U of Guelph, Guelph, ON. May 17, 2016.
Brash ML. Small flock poultry project, sample collection demonstration Small flock poultry workshop for veterinarians. OAHN/OMAFRA/AHL event. PAHL, U of Guelph, Guelph, ON. May 7, 2016.
Brash ML. Platinum Brooding Ontario Workshops. Cargill Poultry Producers. Kitchener, ON. Feb 9/10,June 8/ 9, 2016.
Brooks AS, Brash ML, Ouckama R, Varga C, Barham ML. Poultry health and OAHN update. Poultry Industry Council, St. Isidore, ON. Dec 1, 2016.
Brooks AS. Diseases of sheep. Ontario Sheep Marketing Agency, District 10, Embrun, ON. Mar 2016.
Fairles J. AHL Update – overview of AHL updates and disease trends (OAHN) for 2016. Ontario Association of Swine Veterinarians, Fall Conference, October 29, 2016.
Hazlett MJ. Food animal diagnostic pathology – diseases of swine. 4th year OVC DVM students. Dec, 2016.
Maxie G. AHL laboratory overview. OMAFRA Ministry Emergency Management Planning Committee. Guelph, ON. Jun 20, 2016.
McEwen B. Animal Health Laboratory - Our role in medicolegal cases. Private Security & Investigative Services Branch Meeting. Ministry of Community Safety & Correctional Services. Toronto ON. Dec 2016.
Oesterle P, Ojkic D, Buchanan T, Purvis M, Shirose L, Campbell D, Jardine C. Avian influenza in wild birds - 2015 surveillance results from Ontario. Interntnl Conf Diseases in Nature Communicable to Man. Guelph, ON, August 7, 2016.
Ruotsalo K, DeLay JP. 'Opening the Black Box,' maximizing the benefits of diagnostic testing. OAVT Conference. March 2016 .
Ruotsalo K, DeLay JP. Round table discussion Lunch with a pathologist. OVMA Conference. Toronto, ON. Jan 2016.
Spinato, MT, Maxie, MG. The Animal Health Laboratory's role in emergency response. Farm-to-Fork Emergency Management Exercise for Swine Disease. Guelph, ON. Nov 25, 2016.
Samman A, Susta L, Guerin M, Brash M, Varga C, Martin E. Detection and surveillance of significant pathogens in Ontario small poultry flocks. PHRN Research Day, U of Guelph, Guelph, ON. Mar 29, 2016.
Spinato MT. KTT project: Adult small ruminant mortality project launch. Small Ruminant Veterinarians of Ontario. Mar 31, 2016.
Turner PV, Compo NR, Davidson S, McDowell M, Cai H, Gottstein B, Peregrine AS. Diagnoses of alveolar echinococcosis in lemurs at an exotic animal sanctuary: Implications for public health. DIN Meeting 2016.
Vaillancourt J-P, Boerlin P, Slavic D, Guerin M. Assessment and mitigation of contamination risks: critical knowledge to reduce diseases and increase biosecurity compliance. OMAFRA Food Safety Research Forum, Guelph, ON, May 2016.
---
AHL Newsletter
March, 2017 - Volume 21, Number 1
       Editor:  Grant Maxie, DVM, PhD, Diplomate ACVP
       Editorial Assistants:  Helen Oliver, April Nejedly
The AHL Newsletter is published quarterly (March, June, September, December) by the Animal Health Laboratory, Laboratory Services Division, University of Guelph.Its mission is to inform AHL clients and partners about AHL current activities, and laboratory-based animal disease events and disease trends.  All material is copyright 2017.  Ideas and opinions expressed herein do not necessarily reflect the opinions of the University or the Editor.
Articles may be reprinted with the permission of the editor and with appropriate credit given to the AHL Newsletter.
Mailing address & contact information:
Animal Health Laboratory
Laboratory Services Division, University of Guelph
Box 3612, Guelph, Ontario, Canada  N1H 6R8
Phone: (519) 824-4120 ext. 54538; fax: (519) 821-8072
To receive an electronic copy of this Newsletter, please send your email address to us at holiver@uoguelph.ca
ISSN 1481-7179
Canada Post Publications number - 40064673
Contributors to this issue - from the Animal Health Laboratory:
Melanie Barham, DVM, PMP
Andrew Brooks, DVM, PhD, Diplomate ACVP
Emily Brouwer, HBSc, DVM,
Hugh Cai, DVM, MSc, DVSc
Michael Deane, BA
Josepha DeLay, DVM, DVSc, Diplomate ACVP
Jim Fairles, DVM, MBA
Josie Given, BA
Murray Hazlett, DVM, DVSc, Diplomate ACVP
Beverly McEwen, DVM, PhD, Diplomate ACVP
Davor Ojkic, DVM, PhD
Rina Pigozzo
Felipe Reggeti, DVM, PhD, Diplomate ACVP
Kristiina Ruotsalo, DVM, DVSc, Diplomate ACVP
Jan Shapiro, DVM, DipEqSurg, DipPath
Durda Slavic, DVM, PhD
Maria Spinato, DVM, DVSc, Diplomate ACVP
Margaret Stalker, DVM, PhD, Diplomate ACVP
Andrew Vince, DVM, DVSc, Diplomate ACVP
Other contributors:
Luis Arroyo, LMV, DVSc, PhD, DACVIM, Clinical Studies; Rebecca Egan, HBSc, DVM; Claire Jardine, DVM PhD; Amanda Mansz, DVM, DVSc; Nicole Nemeth, DVM PhD, DACVP, Pathobiology; Paula Menzies, DVM MPVM DECSRHM; Scott Weese DVM DVSc DACVIM. Population Medicine; OVC.
Doug Campbell,, DVM DVSc, Lenny Shirose, BSc MSc, Canadian Wildlife Health Cooperative, Guelph, ON.
Jocelyn Jansen, DVM, DVSc; Alison Moore, DVM, DVSc, DACVIM, DACVSMR OMAFRA, Guelph, ON
Penny Waite, DVM, Ottawa, ON
Our continued thanks to all of the non-author AHL clerical, technical, and professional staff who contribute to the generation of results reported in the AHL Newsletter.