COMPANION ANIMALS
Feline hippocampal necrosis - a case report  
Jan Shapiro
A 3-y-old spayed female domestic short-haired cat was submitted to the Animal Health Laboratory-Kemptville for postmortem examination. The cat had been presented to the veterinary clinic with a history of acute onset of aggression, inappetance, and fever of 41°C. Routine hematology and urinalysis results were unremarkable. The cat was discharged with a nonsteroidal anti-inflammatory drug and an antibiotic, and the owner reported that the cat had initially improved with treatment. However, 9 d later it was re-presented to the clinic because of recurrence of the abnormal behaviour, as well as incontinence and howling. On physical examination, the cat was agitated, hyperesthetic and seemed painful; pain medication was administered. Although some improvement in its demeanor was noted, the cat died a few hours later.
At postmortem, there was mild diffuse dark discoloration of the hippocampus, and histopathology showed severe bilateral but asymmetric loss of neurons from the pyramidal layer (Fig. 1) accompanied by laminar spongiosus of the neuropil, congestion and neovascularization, diffuse microgliosis, and multifocal astrogliosis. There was also focal necrosis of the neuropil with infiltrating gitter cells (Fig. 2), and regional neuronal vacuolation. Very mild and infrequent perivascular infiltrates of mononuclear cells were seen in hippocampus, cerebral cortex, and meninges of the cerebral cortex and thalamus. The thalamus and rostral medulla each had a single focus of necrosis in the gray matter.
The clinical history and histopathology of this case are consistent with previous reports of feline hippocampal necrosis (FHN), a well-recognized but poorly understood multifactorial disease that affects felids of all breeds, ages, and both sexes. Various etiologies resulting in ischemic neural necrosis have been proposed, including environmental, toxic, and autoimmune-mediated inflammation. FHN is considered both a cause and a result of severe seizure activity. Common clinical signs of FHN are acute onset of behavioural changes such as anxiety, restlessness, severe aggression, and seizures. It has been suggested that the reason some cases have no reported history of seizures is that episodes have not been observed by owners of cats that are indoors/outdoors cats or are not constantly supervised.   AHL
References
Brini E, et al. Necrosis of hippocampus and piriform lobe: clinical and neuropathological findings in two Italian cats. J Fel Med Surg 2004;6:377-381.
Fatzer R, et al. Necrosis of hippocampus and piriform lobe in 38 domestic cats with seizures: a retrospective study on clinical and pathological findings. J Vet Intern Med 2000;14:100-104.
Fors S, et al. Feline hippocampal and piriform lobe necrosis as a consequence of severe cluster seizures in two cats in Finland. Acta Vet Scand 2015;57:41.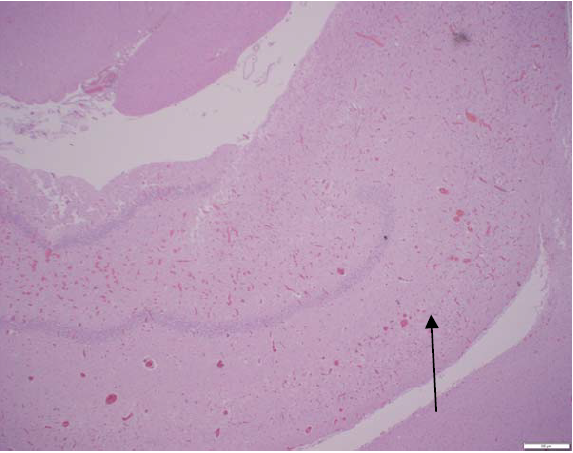 Figure 1. Hippocampus, showing loss of pyramidal cell layer (arrow) and neovascularization. H&E.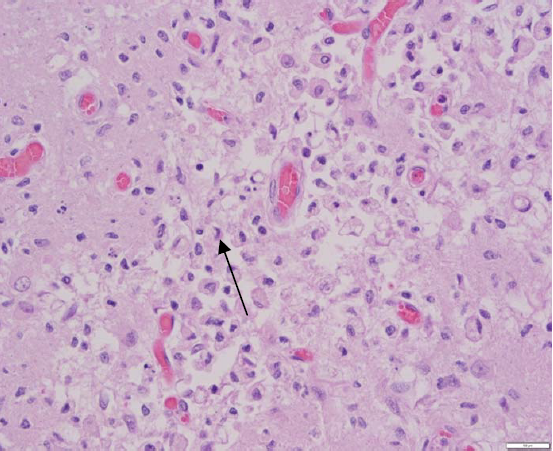 Figure 2. Hippocampus, showing necrosis, gliosis, and infiltrating gitter cells (arrow). H&E.