AHL Newsletter June 2018
Click here for a pdf copy of the June 2018 AHL Newsletter.
May 1, 2018, AHL User's Guide and Fee Schedule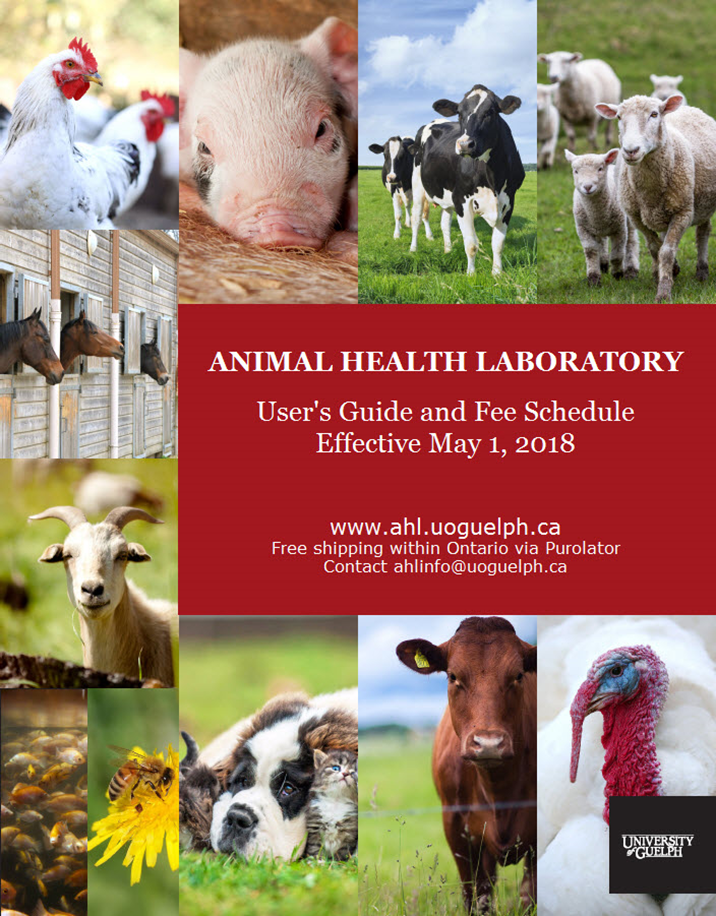 Includes more test information, new tests, new test panels, fee adjustments, and more!
 Mobile friendly!
 Available on-line at https://www.uoguelph.ca/ahl/
 Test information is linked to LabNotes to facilitate test selection and interpretation of results.
 Please note that tumor margin evaluation, histt, is charged in addition to the histopathology fee (see below).
 New tests - lipid profile; insulin (RIA) and glucose; Mycoplasma hyopneumoniae - gene sequencing typing; Trichomonas gallinae - PCR; scrapie resistance PrP genotyping in deer (codon 96) - sequencing; Myxobolus cerebralis (whirling disease pathogen) - PCR; Bacillus anthracis (anthrax) - real-time PCR; Mycoplasma suis, M. wenyonii, M. ovis, M. haemolamae PCR; bromethalin (desmethylbromethalin) - LC-MS/MS; selenium, blood - ICP-MS; bluetongue virus/epizootic hemorrhagic disease virus - PCR; bovine abortion panel - PCR (BoHV-1/IBR, Leptospira, Neospora caninum); Salmonella Dublin - antibody ELISA; Leptospira spp - PCR; bluetongue virus Ab - ELISA; Sporothrix schenckii - RT-PCR.   AHL
---
Companion animal histopathology tests at the AHL
Josepha DeLay
AHL histopathology tests and associated fees for companion animal biopsies and in-clinic postmortems are categorized based on the number and size of samples. Please be sure to read the details for each subset of test so that you select the correct test for each case. Also please note that for surgical margin evaluation of biopsies >2 cm diameter, the 'tumor margin evaluation' test must be selected in addition to the appropriate histopathology test. An additional fee applies for margin evaluation on these larger biopsies. Please refer to the AHL website for current fees.   AHL
Test name

Test code

Details

Histopathology, 1-2 biopsies or tissues

 

histcm1

 

For submissions with 1-2 biopsies or tissues, OR multiple (6 or fewer) punch, trucut, or endoscopic biopsies.

Histopathology, 3-6 biopsies or tissues

 

histcm2

 

For submissions with 3-6 biopsies or tissues, OR biopsies 6-10 cm diameter.

Histopathology, 7 or more biopsies or tissues

 

histcm3

 

 

For submissions with 7 or more biopsies or tissues, OR biopsies / samples >10 cm diameter (eg large tumors, spleen, brain, mammary chain, heart).

Tumor margin evaluation

 

histt

 

Applies in addition to regular histopathology charge. For tumor excisional biopsies >2 cm diameter. Includes preparation of 4 radial margin sections. Must be requested at time of sample submission.
---
Client Outreach Technician - Josie Given   
Jim Fairles
The AHL is pleased to announce that, under the Ontario Animal Health Network, Josie Given has been named to the permanent position of Client Outreach Technician - https://www.uoguelph.ca/ahl/people/josie-given .
Josie will continue to focus on the voluntary AHL in-clinic milk bacteriology quality program
https://www.uoguelph.ca/ahl/content/ahl-labnote-47-ahl-milk-bacteriology-clinic-laboratory-proficiency-program as well other areas of the in-clinic laboratory. She will also concentrate on helping clinics get the most from their submissions to the lab. This will include demonstration and implementation of the new AHL Client Portal. This portal will provide a user-friendly online submission process in which clinic client information can be stored and retrieved easily. This will aid in giving the AHL the best information needed for testing and scanning surveillance including demographics, premises identification numbers (PIDs), and history.
Josie brings a wealth of experience from her experience in this position under the Disease Surveillance Plan. Please join us in welcoming Josie to this position.   AHL
---
Small Ruminant Adult Mortality Project deadline approaching - only 2 months left to submit cases!  
Maria Spinato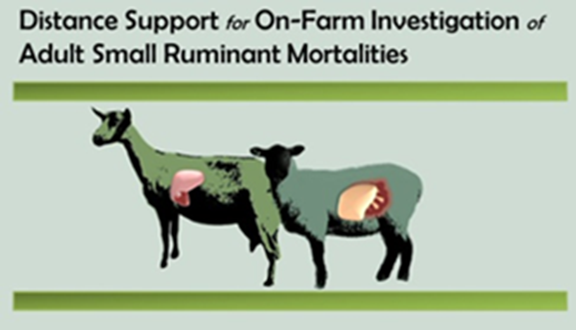 - Last date to submit a case is July 31, 2018.
- 89 cases completed to date.
- Sufficient funds remain to test 80 more cases.
- Postmortems and submitting samples during the warmer months: if the tissues are "green", the case will be rejected as bacterial cultures will be overgrown and histopathology will be non-diagnostic
- If the samples cannot be shipped overnight or dropped off at AHL, fresh tissue samples and head should be frozen.
- Please check your collection kit to ensure that the formalin and culture swabs are not expired.
---
AHL Newsletter
June, 2018 - Volume 22, Number 2
       Editor:  Grant Maxie, DVM, PhD, Diplomate ACVP
       Editorial Assistants:  Helen Oliver, April Nejedly
The AHL Newsletter is published quarterly (March, June, September, December) by the Animal Health Laboratory, Laboratory Services Division, University of Guelph.
Its mission is to inform AHL clients and partners about AHL current activities, and laboratory-based animal disease events and disease trends.  All material is copyright 2018.  Ideas and opinions expressed herein do not necessarily reflect the opinions of the University or the Editor.
Articles may be reprinted with the permission of the editor and with appropriate credit given to the AHL Newsletter.
Mailing address & contact information:
Animal Health Laboratory
Laboratory Services Division, University of Guelph
Box 3612, Guelph, Ontario, Canada  N1H 6R8
Phone: (519) 824-4120 ext. 54538; fax: (519) 821-8072
To receive an electronic copy of this Newsletter, please send your email address to us at holiver@uoguelph.ca
ISSN 1481-7179
Canada Post Publications number - 40064673
Contributors to this issue
- from the Animal Health Laboratory:
Melanie Barham, DVM, PMP
Marina Brash, DVM, DVSc, Diplomate ACVP
Andrew Brooks, DVM, PhD, Diplomate ACVP
Michael Deane, BA
Josepha DeLay, DVM, DVSc, Diplomate ACVP
Jason Eidt, BSc
Jim Fairles, DVM, MBA
Murray Hazlett, DVM, DVSc, Diplomate ACVP
Beverly McEwen, DVM, PhD, Diplomate ACVP
Felipe Reggeti, DVM, PhD, Diplomate ACVP
Janet Shapiro, DVM, DipEqSurg, DipPath
Durda Slavic, DVM, PhD
Maria Spinato, DVM, DVSc, Diplomate ACVP
Quimei You, DVM, MSc
Jen Zoethout, BScH
- Other contributors:
Al Dam, BSc; Csaba Varga, DVM, PhD, OMAFRA, Guelph
John Hancock, DVM, Picton, ON
Wilson Rumbeiha, BVM, PhD, DABT; Dwayne Schrunk, BS, Veterinary Diagnostic Lab, Iowa State University, Ames Iowa
Sherry Smith, DVM, Dunnville, ON
Kathleen Taylor BSc, DVM; Bruce Watt DVM, Dipl ACVS, Uxbridge, ON
Lloyd Weber, DVM, Guelph, ON
Our continued thanks to all of the non-author AHL clerical, technical, and professional staff who contribute to the generation of results reported in the AHL Newsletter.