Prud'homme Beer Certification®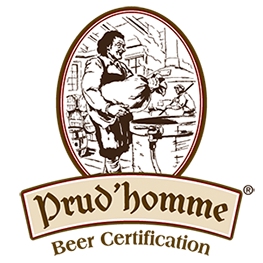 During this unprecedented time, the School of Hospitality, Food & Tourism Management (HFTM) has cancelled the in person Prud'homme classes at the University of Guelph. When the University resumes normal operations, the school will re-evaluate its position and what certifications will be offered in Fall 2021, along with their means of delivery.  However, we are offering beer certifications online, please see this link for details and registration.
We appreciate your patience while we work to develop and schedule certification classes that maintain the Schools strong program offerings while conforming to social distancing requirements and restrictions. In the meantime, if you would like to be kept informed of future program offerings and/or to be put on a waiting list for a future course offering, please send an email to the appropriate programs below.
We appreciate your support and understanding.
Sincerely,
Chris Choi
HFTM Interim Director
---
The School is thrilled to offer the Level 1 Prud'homme Beer Certification® In Person! 
Experience a World Class Beer Education Program
Prud'homme Beer Certification®, a beer sommelier program was created in 2009 to meet the needs of a rapidly changing desire for more beer knowledge. This multi-level beer education course has something to offer to everyone from the beer aficionado to the hospitality professional.
What makes Prud'homme Beer Certification® different from other beer education programs?  They're plugged into the beer community.  

Graduates own breweries, design draught systems, manage successful hospitality locations and write about beer for national publications.  You'll see them speaking at festivals, hosting unique events and sharing their vast knowledge of beer at beer establishments across Canada.
In a world of curious, passionate and demanding beer drinkers presented with an exploding variety of beer styles, it's important to be able to speak knowledgeably about and understand beer.
Prud'homme Beer Certification® is the only beer education program that provides a well-structured, unbiased look at the world of beer.  It covers an in-depth look from the history, styles and taste profiles of beer as well as cooking with beer and food pairings. Prud'homme Beer Certification® provides a fun and engaging atmosphere in which to enhance your knowledge of beer.
---
Instructor - Dan Schmidt
Dan grew up working in the hospitality industry and has worked in restaurant management, beer portfolio development, and beer training for the Bier Markt.  Dan's German heritage helps to make him an ideal beer educator. He is a self proclaimed Beer Romantic and Prud'homme Master Beer Sommelier, and is currently working as the Front of House Manager and Head of Beer Education at Royal City Brewing in Guelph.
---
Level I - Beer Enthusiast
This introductory course in beer education is designed for participants interested in furthering their knowledge and interest in beer. The focus will be on brewing ingredients and processes, tasting concepts, pouring and serving concepts (including an introduction to draught systems) and food and beer pairings.
When
TBA
Where
Level 1 will be held in Macdonald Stewart Hall at the University of Guelph.
University of Guelph campus map. (Building - Macdonald Stewart Hall)
How to gain the qualification
You must successfully complete a multiple choice and fill-in-the-blank exam with a passing grade of 70%.  Successful participants will be issued a Prud'homme Beer Certification®.
The exam will take place on the last session date.
Fee
$375* + HST ($48.75) = $423.75
*Includes: Instruction, education material, beer and exam.
A 10% discount will apply to U of G students/staff/faculty/alumni ($337.50 + HST $43.88 = $381.38)
How to apply
Register on-line at this link.
Registration deadline
TBA
Seating is limited, please register early.
Payment information
Payment is due upon submitting your application form. Please follow one of these two options:
Contact Lisa Fodor at 519-824-4120, ext. 56116 with credit card details (VISA or M/C only); OR
Forward a cheque payable to the "University of Guelph" and mail to: Lisa Fodor (the address is on the application form).
HST Registration Number - R108161829
A University of Guelph receipt can be issued.
Age restrictions
You must be 19 years of age by course start date. Students who choose not to taste alcohol for health, religious or other reasons will not find this a barrier to successfully completing the Level 1 certification.
Cancellation
If cancellation occurs between registration and 10 working days prior to the course start date, an administration fee of $150 will apply. Cancellation must be made in writing with a valid reason of withdrawl. There will be no refunds for cancellations within 10 working days of class start.
Contact
Lisa Fodor
Logistics Coordinator
School of Hospitality & Tourism Management
Macdonald Stewart Hall
University of Guelph
50 Stone Road East
Guelph, ON N1G 2W1
(519) 824-4120, ext. 56116
Email: beer@uoguelph.ca
Email us to be placed on a mailing list for future Level 2 certification offerings.
Cheers and hope to see you soon!