Top 30 Under 30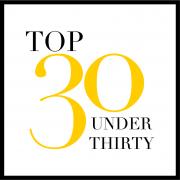 In April of 2019, Kostuch Media Ltd. (KML) announced it would take over production of the annual program from the Ontario Hostelry Institute OHI), following the passing of Charles Grieco, former president of the OHI. It also announced it would take the program national for the first time in its 14-year history. The Top 30 Under 30 is an annual recognition program that celebrates the hospitality and foodservice industry's top 30 young professionals in all sectors.  This high-profile recognition program celebrates and recognizes future leaders of the hospitality and foodservice industry who are and will make a difference!
Winners are celebrated and acknowledged at a special reception, as well as showcased in Kostuch Media's Foodservice and Hospitality Magazine and the Globe and Mail.
The School is proud to announce our Rising Stars of the Top 30 under 30 below.  Congratulations! 
2021
Amber Douel, HAFA'18 - Front Office Manager, Delta Hotels by Marriott - Vancouver Downtown Suites 
Bonnie Nethery, HAFA '17 - General Manager, Descendants Beer & Beverage Co.
Meghan Wright, HAFA '15 - General Manager, Oliver & Bonacini
Nicole Chan, HAFA'16 - Program Manager, Guest Experience, Sonder
Yonnie Wong, HAFA'17 - Account Manager, SnapCommerce
2020
Duncan Chiu, HAFA:C '13 - Director, Development, Coast Hotels 
Emily Robinson, HAFA:C '20 
Tina Chan, HAFA'12 - Events Manager, Westin Harbour Castle 
Tom Beckett, HAFA'14 -  Vice President, HVS 
2019
Alicia Kumagai, HAFA '12 - Sales Manager, 100KM Foods Inc.
Sahad Kasam, HAFA '19 - President, HFTMSA, University of Guelph
Haley Mumby, HAFA '12 - Wedding & Special Events Sales Manager, Deerhurst Resort
Travis Traini, HAFA '12 - Consultant, fsSTRATEGY Inc.
Shauna Jaskot, HAFA  '13 - Business Travel Sales Manager, Hilton Toronto 
2018
Sid Grover, HAFA '10 - Director of Operations, La Prep and Chaska
Rebecca Lafferty, HAFA '13 - Manager Operations, Wayne Gretzky Estates Winer & Distillery
2017
Appolline Gaignard, HAFA '14 - Assistant Housekeeping Manager, Four Seasons Hotel Toronto
Kyle Forth, HAFA '10 - Chef de Cuisine, Brux House
Kristen Renaud, TMGT '10 - Assistant Director of Catering, Fairmont Royal York
2016
Benn Froggett, HAFA '13 - General Manager, The Glen Tavern, Glen Williams
Jamie Knoepfli, HAFA Co-op '13 -  Manager, Cafe Boulud and Dbar, Toronto
Aaron Laurie, HAFA '16 Current 4th year student - President, Hotel Association of Canada Guelph Chapter
Alex Marconi, HAFA Co-op '12 - Social Media Manager - Four Seasons Hotel Toronto
2015
Rebecca Gordon, HAFA 4th Year
Michaela Hewitt (nee Boehm), MBA - Hospitality (current)
Emma Kamp, HAFA '12
Emily Newton-Przulj, HAFA Co-op '08
Sarah Russell, HAFA '09
Michelle Siman, HAFA '11
 
2014
Kyle Braden, MBA '12
Sam Prentice, HAFA '12
Stephanie Redmond, HAFA Co-op '14
2013
Cindy Arman, HAFA '12
Nicole DeAthe, HAFA Co-op '10
David Humphrey, HAFA ' 11
Meghan Misner, HAFA Co-op '07
2012
Derek Beirnes, HAFA '11
Daniel Janetos, HAFA '08
Malcolm Jastrebski, HAFA '07
2011
Jennifer DiRaddo, HAFA Co-op '06
Stephanie Guth, HAFA '07
Todd Hand, HAFA '07
Sasha Saladziak, HAFA '10
Robin Wilson, HAFA '07
2010
Adrian Niman, HAFA '07  The Food Dudes
Nicholas Pearce, HAFA '04
Teressa Thorpe, HAFA '10
2009
Matthew Duffy, HAFA '06
Adam Fikis, HAFA Co-op '02, MBA Hospitality '08
Ashley Howat, HAFA '07
Ana Yuristy, MBA Hospitality '05
2008
Jeff Hyslop, HAFA Co-op '04
Jackie Bourgeois (now Pearson), HAFA '02
2007
Andrew Garrett, HAFA Co-op '01
Chad McLaughlin, HAFA Co-op '08
2006
Jody Chrobak, HAFA '06
Karalyn Ferdinands, HAFA Co-op '03
Anson Kwok, HAFA Co-op '03
Iris Lam, HAFA Co-op '08
Darcy MacDonell, HAFA '02 and MA Leadership '10  Owner/Operator - Farmhouse Tavern (Toronto)
MEDIA
Join HAFA/HFTM Alumni Association social media platforms