HTM Hornblower Student Magazine
The Hornblower Magazine started off as a single piece of pink paper announcing the upcoming HAFA Valentine's Day Dance in 1973. It was initially written anonymously by Dave Houghton under the pen name Hermann Hornblower for fear of negative repercussions. By the end of its second year in publications, the newsletter had grown to eight pages and "reporters" were used to help capture stories.
Today, The Hornblower Magazine has developed into a yearly magazine publication that is distributed throughout the School of Hospitality, Food and Tourism Management at the University of Guelph. The Hornblower features articles from students, alumni, and industry professionals and a listing of graduating students.
The Hornblower Magazine has been available online since 2010.  The print edition is printed on Friesen's Envirolux paper made with 80% recycled fiber, 40% post-consumer waste and processed chlorine free.
Find the official Hornblower Magazine, including past issues, this year's team and advertising with us on our website.
Sincerely,
The Hornblower Magazine Team
LATEST EDITION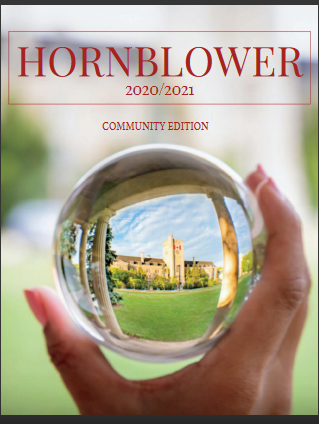 PAST EDITIONS
2019/2020 50th ANNIVERSARY HORNBLOWER EDITION