Holiday Message from Dean Lysa Porth: 2021 in Review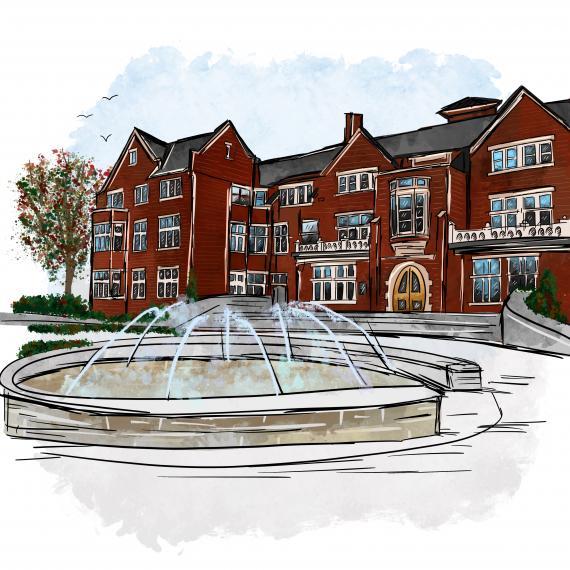 Each year at this time I like to reflect on the significant contributions and accomplishments made by our Lang community, and to take pride in the work that we have achieved together.
2021 has no doubt, been a challenging year for all of us, as COVID-19 is still very much part of our daily lives, businesses and communities. However, despite the complications caused by the pandemic, the Lang School community continues to persevere. I want to commend all of you for your hard work, resilience and leadership. I know you will continue to lead the way as we head into 2022.
There are several positive news items I would like to share with you.
In April, Lang joined the ranks of some of the world's top business schools by earning accreditation from AACSB. This accreditation is widely considered one of the world's most prestigious accreditations, and will enhance Lang's opportunities for research partnerships, academic collaborations, and international networking.
We also began the significant task of refreshing our Strategic Priorities to have a clear direction ahead as we endeavour to be a globally recognized leader in business education. Lang has made tremendous progress over the last few years and I am excited for what our future holds.
We also welcomed our first cohort into the new master's program in management that includes a unique specialization in innovation, commercialization and entrepreneurship. This program will attract students from a wide range of disciplines, like engineering and computer science who wish to complement their technical education with a management-focused degree. 
This past September, we finished construction on the new Lang Plaza out front of our campus. The 3,400-square-metre plaza is a hub of activity for Lang business students and features seating areas, a fire pit, a bio-infiltration garden and a water fountain. Thanks to a massive tree planting event, the Plaza's construction will be carbon neutral.
We also opened a renovated, state of the art food laboratory named after the founder of Food Day Canada, Anita Stewart. Among the first of its kind in Canada, the new culinary studio is outfitted with state-of-the-art equipment provided by Whirlpool Corp.
We also launched the Institute for Sustainable Commerce which provides seed funding for a number of faculty projects that we are expecting to see flourish into larger research programs in the future.
Lang faculty also contributed heavily to UofG's massive $6 million SSHRC and NSERC funding announcement, including projects from Dr. Towhidul Islam, Dr. Sandeep Mishra, Dr. Elizabeth Kurucz, Dr. Ann Pegoraro, Dr. Davar Rezania, Thomas Sasso, Dr. Kimberly Thomas-Francois, Dr. Simon Somogyi and Dr. Thanasis Stengos.
We welcomed multiple new faculty members to Lang, including research leaders Dr. Laurie Barclay as the Lang Chair in Leadership and appointed Dr. Ilias Tsiakas as our Lang Chair in Finance. We also welcomed Dr. Barak Aharonson as the Wood Chair in Innovation Management.
Last month, the Lang MBA was ranked #5 in the World and #2 in Canada by Corporate Knights for its focus on developing sustainable and responsible business leaders. 
We are beginning to see signs of normality on campus. I know that the progress seems slow but we are hoping for a return to more normal conditions in 2022. The good news is that faculty at Lang have done an exceptional job of maintaining their high-level of teaching excellence and research while working through the challenges of COVID-19. 
Lang students continue to inspire as well. The Lang Students' Association are making an incredible impact in our community, raising over $8,000 for the Food Bank for their Langsgiving event in November
As always our alumni are making an impact, achieving notable achievements in their respective disciplines. Like BComm marketing management alumnus Candace Borland who was named one of Canada's Top 40 Under 40 by National Post and BNN. 
Together we continue to persevere and find ways to support each other through the challenges and setbacks we face. To all our students, staff, faculty, alumni and supporters, may your holiday season be filled with rest and relaxation. I look forward to reconnecting with you all in the new year.
Please stay safe and take care.

Dean Lysa Porth
Share this page
News Topics