Past Graduate Students
---
Scott Cassidy (PhD)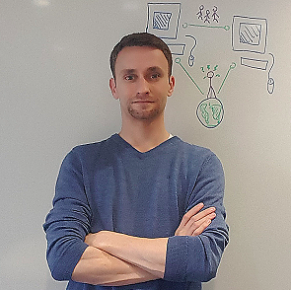 Scott holds a PhD in Industrial/Organizational psychology from the University of Guelph. Scott's doctoral work investigates the means by which teams develop (or fail to develop) effective communication patterns and trust using a variety of different technologies, in order to foster effective, high-performing virtual work teams. To do this, Scott's project involves running participant teams through a military simulation designed and developed with the United States Office of Naval Research; after which he and his team of subject matter experts assess each team's process using a variety of content analysis-, thematic-, and linguistically-derived metrics. Scott has had the privilege of presenting this work to a wide variety of academic- and professional audiences, including as part of an international symposium on virtual team leadership at the 2016 Society for Industrial/Organizational Psychology (SIOP) conference in Anaheim. More recently, Scott served as the academic voice on a joint researcher/practitioner panel on virtual team leadership at the 2017 SIOP conference in Orlando, hosted by IBM Smarter Workforce.
Scott has worked at the Guelph Organizational Trust Lab since 2010, and has served as lab manager for the GOT lab and Centre for Organizational Studies since 2014. Outside of the lab, Scott has also worked as a consultant at Organization and Management Solutions as well with Taylor-Newberry Consulting, where he has helped apply evidence-based best practices to management through the use of applied psychometrics, structured interview training, focus groups, and various training workshops and modules.
Email: cassidys[at]uoguelph.ca
LinkedIn: https://www.linkedin.com/in/scott-cassidy-a1b6346a
---
Josh Hanna (MA)

Josh graduated with an M.A. in Industrial/Organizational psychology from the University of Guelph in 2017. Jinder supervised Josh's thesis on how leader delegation can make subordinates feel trusted. In addition to his role as a member of the Trust Lab, Josh was a consultant with Organization Management Solutions working to apply evidence-based management practices to solve problems in local, and provincial organizations. Josh has previously applied psychological evidence to real world problems through co-founding Psychological Education for Awareness and Reduction of Stigma (PEARS), an organization focused on community mental health education. PEARS won a 2015 Canadian Mental Health Association Champions of Mental Health award.
Contact information:
Email: jhanna06[at]uoguelph.ca
LinkedIn: https://ca.linkedin.com/in/josh-hanna-783b5a55
---
Past Honours Students and Research Assistants
Helen graduated from the University of Guelph with a Bachelor of Arts student majoring in Psychology. Her honours research focused on interview anxiety and its impact on performance evaluation. Helen joined the lab in the summer of 2017 and worked on the 'Teams' project and helping develop the Fall 2017 course 'Teams, Leadership and Professional Behaviour'.
---
Theresa Breen
After graduating from the University of Calgary with a BA in Psychology, Theresa earned her certification to teach from the University of Cambridge. Although Theresa loved teaching, she decided to return to university and pursue a career in Clinical Psychology. To this end, Theresa began attending the University of Guelph in September of 2016 to upgrade her credentials.
Theresa joined the GOT lab as a volunteer in the late fall of 2016. She has had many roles in the lab, including developing the lab's website and completing an internship on felt trust and Self-Determination Theory.
---
Lovleen is a fourth year Honors Bachelor of Arts and Science student, specializing in Neuroscience and Psychology who joined the I/O lab as a volunteer in the Fall 2017 semester. Under Scott Cassidy and Dr. Harjinder Gill, Lovleen worked on the Claremont Project. Lovleen conducted stock market analysis, looking at when companies change policies that may affect organizational culture or remote work arrangements; and when and how leadership changes. 
---
Thomas is a recent graduate from the University of Guelph, achieving an Honours B.A. in Psychology. Lacking any skills in the field of human research and pursuing his interest in Industrial/Organizational psychology, Thomas has joined the GOT lab as a volunteer to gain first-hand experience in the world of I/O psychology.
---
As an Honours Bachelor of Science student, Olivia has a passion for research and wants to pursue the study of cognition and mental functioning implemented in the brain's neural circuitry. She is majoring in Psychology: Brain and Cognition at the University of Guelph which fosters her interest in the mind-brain relationship and the interplay between mental phenomena and brain activity. Her interest in psychometrics and assessing workplace performance motivated her to join Dr. Gill's Organizational Trust Lab; she volunteered with the Drapo Island Project and has collaborated on data transcription and latent content analysis. In the Fall 2016 semester, Olivia completed an internship with a focus on exploring the specific communication practices and patterns within virtual teams that lead to high- versus low-task performance.
---
Karli is a third year Honours Bachelor of Arts student, currently pursuing her passion in Psychology and Family & Child Studies. She joined the I/O lab as a Summer 17' volunteer where she worked closely with Dr. Gill and her lab team to develop the new Fall 17' Psychology course 'Teams, Leadership and Professional Behaviour'. In September, Karli began her Internship under Dr. Gill and specializes in two major areas including conducting literature reviews for an upcoming REB proposal and video transcribing participant data. Upon graduation, Karli intends to pursue graduate studies and earn a Ph.D. with the end goal of becoming a Clinical Psychologist.
---
As a fifth-year undergraduate student at the University of Guelph, Cullen is currently working as a research assistant while completing his B.A. with Honours Specialization in Psychology. He initially joined the Centre for Organizational Studies in the summer of 2016 to assist with Scott Cassidy's "Drapo Island" dissertation project and has since completed video transcription, task scoring, latent content analysis, thematic analysis, data management and statistical analysis, and a comprehensive literature review within the GOT lab.
---
Emese recently completed her undergraduate studies in Bachelor of Arts Honours Psychology with certificates in Business and Leadership. Emese joined the Guelph Organizational Trust lab in S16 to assist Scott Cassidy with his "Drapo Island" Dissertation. With the team, Emese has completed video transcription, content analysis, and literature review for various projects within the GOT lab. Although Emese has graduated she is an active member in the lab assisting with data collection and literature review for the Claremont Project.
---
Baylee Rubinoff
Baylee is a recent graduate of the University of Guelph. She completed her Honours Bachelor of Arts majoring in Psychology and minoring in Marketing, graduating with distinction. She volunteered with the lab working on projects with Dr. Gill and Scott Cassidy. During her undergrad, she completed an internship in the lab, where she is reviewing the literature on virtual team dynamics and processes. Since joining the Guelph Organizational Trust Lab in September 2016, Baylee has helped Scott Cassidy with behavioural coding of transcripts for his Drapo Island project. She helped with the thematic content analysis team where she worked with Scott Cassidy and other interns to review transcripts and search for underlying themes. 
---
Sara Reid
Sara is a graduate of the University of Guelph, holding an Honours Bachelor of Arts in Psychology, with a minor in Family and Child Studies. Sara initially joined the GOT lab as an Undergraduate Research Assistant in the summer semester of 2015 to assist with PhD candidate, Scott Cassidy's "Drapo Island" Dissertation study and manuscript editing for Dr. Gill. She continued to work in the lab as an intern that fall, and then as a volunteer until graduation in April of 2016. During her time with the lab, she completed content analysis, aided in participant recruitment, facilitated study sessions, prepared lab materials and created a research-based peer-evaluation form for lab members. Sara is currently completing a Certificate in Business from the University of Guelph and hopes to pursue a career in consumer behaviour and brand marketing.
---
Emma Conway
---
Olivia Zaroski
---