Welcome to Psychology
The Psychology Department at the University of Guelph is in the College of Social and Applied Human Sciences.
**For the latest COVID-19 information, follow this link and check back regularly:**
2019 Novel Coronavirus Information
The Department offers undergraduate honours programs leading to a B.A. or B.Sc. degree. The number of Psychology majors across these programs exceeds 750.
Graduate Studies are offered in 4 areas of study. Graduate studies in Psychology - Details
Fall'20 Course selection - UNDERGRADUATE COURSES
Course selection for F20 courses is CLOSED.
All components of undergraduate course delivery in Psychology will be virtual in Fall'2020. This includes lectures, seminars, quizzes, mid-terms, final exams, presentations etc.
Exception: PSYC*3240, 3910, 4240, 4870/4880. If you will be taking one of these courses, you must contact your supervisor to discuss whether your presence on campus will be required.
Meetings for Majors - September 9, 2020
Link to Powerpoint Presentation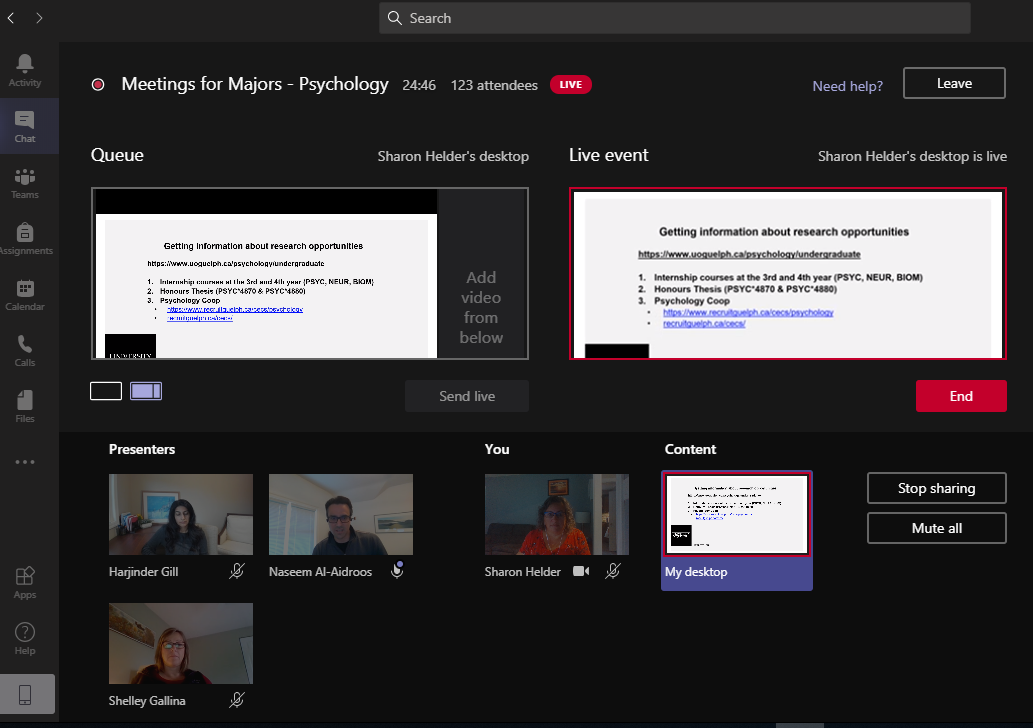 Undergraduate course changes for Fall'20:
What are changes to regularly scheduled courses for Fall'20?
For the latest in how the Fall'20 semester will be affected by COVID-19, consult this link:
Waiver requests (Psychology courses)
Fall 2020 Course selection CLOSED
Winter 2021 Course selection is scheduled to open November 9. 
Helpful links:
BA Psychology Independent Study
BSc Psychology Independent Study
Naseem Al-Aidroos (PSYC major/minor, PBC)
email: naseem@uoguelph.ca
Elena Choleris (NEUR major/minor)
email: echoleri@uoguelph.ca
Chris Fiacconi (PSYC major/minor, PBC)
email: cfiaccon@uoguelph.ca
Harjinder Gill (PSYC co-op)
email: gillh@uoguelph.ca
Mark Fenske (PSYC and honours thesis)
email: mfenske@uoguelph.ca
Karl Hennig (PSYC major/minor)
email: khennig@uoguelph.ca
Psychology Calendar
There are currently no upcoming events scheduled in the Psychology calendar.
Graduate Programs
Be sure to check out the
deadlines
for our graduate programs so your application is submitted on time.