LA Guest Lecture: Nina-Marie Lister
Location
University of Guelph, The Arboretum
OAC Centennial Arboretum Centre  |  Arboretum Road (entrance off College Avenue East)
GPS Co-ordinates to the entrance are: 43°32'39.06"N      80°12'57.78"W
Details
University of Guelph - Landscape Architecture Guest Lecture Series presents:
The Vandergrift Lecture
Nina-Marie Lister, BA Hons, MScPI, MCIP, RPP, Hon., ASLA
Associate Professor – School of Urban and Regional Planning, Ryerson University and Principal of PLANDFORM
"Landscape | Ecology | Resiliency | Urbanism"
 
Please register for this FREE lecture by February 3rd via the Eventbrite link.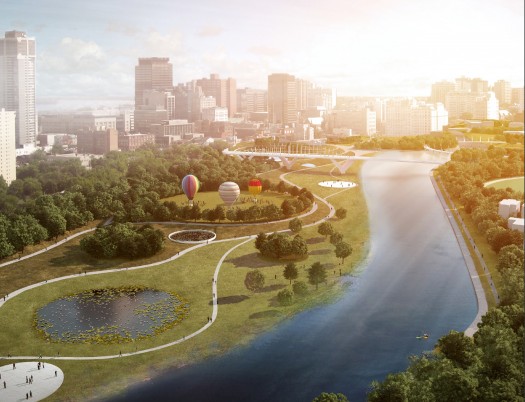 Image courtesy of Nina-Marie Lister - "Back to the River - Forest City, River City, London".
Join us at the OAC Centennial Arboretum Centre, Auditorium, The University of Guelph for the VANDERGRIFT lecture, part of the Landscape Architecture Speaker Series within SEDRD.  Nina-Marie will be speaking about issues on landscape ecology, urbanism and landscape resiliency. Nina-Marie is the graduate program director and associate professor in the School of Urban and Regional Planning. From 2010-2014, she was visiting associate professor of Landscape Architecture and Urban Planning at Harvard University, Graduate School of Design. A registered professional planner (MCIP, RPP) trained in ecology, environmental science and landscape planning, she is the founding principal of PLANDFORM, a creative studio practice exploring the relationship between landscape, ecology, and urbanism. She is co-editor of Projective Ecologies (with Chris Reed, Harvard and ACTAR Press, 2014) and The Ecosystem Approach: Complexity, Uncertainty, and Managing for Sustainability (with David Waltner-Toews and the late James Kay, Columbia University Press, 2008).
Lecture is kindly supported by a gift from the Jack and Gerry Vandergrift Memorial Fund and the Ontario Association of Landscape Architects. 
All welcome to attend.
Contact:  Landscape Architecture Guest Lecture Coordinator:  Nadia Amoroso, Assistant Professor.