Landscape Architecture Alumni
Landscape Architecture Alumni Association
The Landscape Architecture Alumni Association (LAAA) serves BLA and MLA graduates from the School of Environmental Design and Rural Development (SEDRD) at the University of Guelph.  It is the LAAA's objective to support the school, connect with students and alumni and ultimately, raise the profile of landscape architecture profession. 
LA Alumni
The Landscape Architecture programs in the School of Environmental Design and Rural Development (SEDRD) at the University of Guelph have a world-wide reputation as a centre for landscape architecture education.  Our alumni enjoy rewarding and productive careers in the public, private and academic sectors.  The landscape architecture programs have a strong relationship with the largest group of landscape architecture alumni in Canada.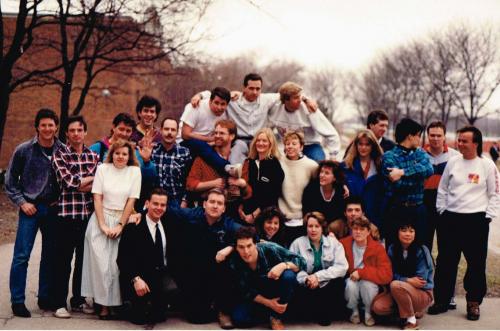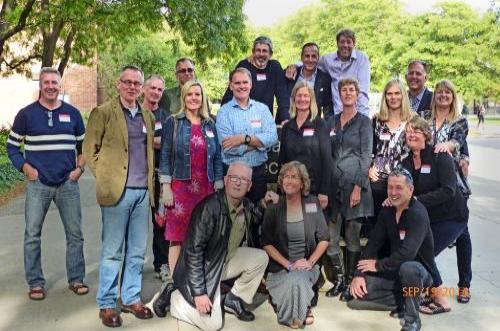 Above Photos:  BLA Class of 1989 
The Landscape Architecture programs in celebration of the 50th anniversary of landscape architecture at the University of Guelph in 2015 has created the "Notable Alumni of Landscape Architecture" online project which features BLA and MLA alumni.
BLA and MLA Alumni Involvement
Our alumni play an important role in student life at our School.  Your experience, expertise, and support can help today's students become tomorrow's leaders in the profession.  As alumni, you can continue to participate by:
The LAAA is looking for new nominees to join the Board to plan future new programs and events for the alumni and interfacing with the School. If you or anyone you know may be interested in participating, please send nominations to any of the Board members or contact Taline Artinian, OAC Dean's Office.
Engaging a class in a real world project or participate in field visits to project sites
Hiring a student for an Internship semester
Attending a Design Critique
Coming to our School as a Guest Speaker
Serving as a member or mentor with the provincial association
Organizing a Class Reunion or Project
Sending us your news information, stories or photos
Becoming a supporter of our Landscape Architecture programs by donating to a new or existing project or award/scholarship
Stay Connected
The Landscape Architecture programs in SEDRD within the Ontario Agricultural College are committed to keeping our alumni community connected to the Faculty and to each other, as part of a lifelong relationship with the University of Guelph and those in the profession. To ensure that we can keep you informed, please confirm or if necessary update your contact information; connect with your classmates; or send in your news for the Alumni Newsletter.
Do you have news information, stories or photos you are willing to share? Email them to the Landscape Architecture Programs Assistant, Diana Foolen.  We'd love to post them on the website or include them in future issues of OAC Alumni News.
LA Support from Alumni and Friends
The University of Guelph celebrates over 56 years of education in landscape architecture.  What better way to show your pride then becoming an annual supporter of our programs? To make a gift, visit the OAC online giving page*
Online donation instructions
Once the OAC secure giving page is launched, click on "I prefer to support an area not listed above".  
Please indicate your preferred fund: The Landscape Architecture Account Number is 800891.
Identify the amount you'd like to give.
In the additional details section, type "Landscape Architecture Programs"  and list any additional details.
Upon completing this portion, please continue completing the rest of the form.
For more information regarding any donations please contact OAC Alumni Affairs.
Thank you
As alumni and supporters, you are integral to our success.  We are deeply grateful for your continued interest in the Landscape Architecture programs at the University of Guelph.