Landscape Architecture Community Outreach Centre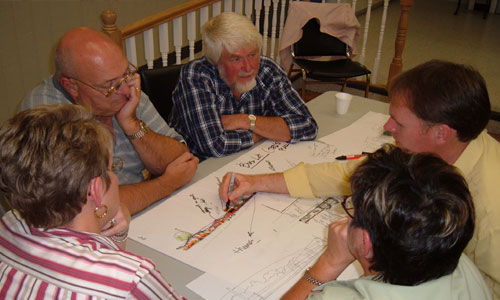 The Landscape Architecture Community Outreach Centre offers design assistance directly to communities, organizations and individuals with the goal of stimulating creative and innovative approaches to solving design problems. Our objectives are to contribute to the role of the University of Guelph in providing service to society, to create educational opportunities for students in our Landscape Architecture programs, and to provide enhanced resources in support of student learning.  Typically, landscape construction/implementation is not provided.
Scope of Projects
We're interested in working with individuals and community groups who need preliminary ideas to get started. Typical projects we undertake through the Community Outreach Centre include design and management plans for parks and open spaces, trail systems, schoolyard naturalization, tourism facilities, greening projects, seniors' residences, therapeutic facilities, streetscapes and downtown revitalization.
Private residential projects are not undertaken within studio environments yet on occasion are considered as supplemental opportunities for interested students.  
Outreach Services
The Outreach Centre receives many requests for assistance. Projects are chosen according to their scope and complexity, their educational value and fit with our learning objectives, and the interests of individual students. Design assistance is generally provided at low cost, depending on the client's ability to pay.  Consideration is "by semester" well in advance of the start of the semester and through agreement of the studio course instructor. 
Projects are frequently undertaken as faculty-organized studio projects as part of either graduate or undergraduate courses. Anywhere from 6 to 60 students work individually or in small groups producing a range of plans. In some cases, students may assume the project as an independent course or thesis project under the direct supervision of a faculty member. In other cases, working independently without faculty supervision, students provide advice or design plans directly to clients. Typically, these latter projects tend to be ones that are small in scale or complexity.
Students usually document their design ideas in the form of sketches, conceptual plans and reports. They do not prepare working drawings for construction purposes. Based on the issues associated with each project, we encourage cooperative work with faculty and students in other programs on campus, drawing on expertise in related fields such as ecology, engineering, rural planning and development, and environmental assessment.
Contact Us
If you would like to have your project considered for design assistance through the Outreach Centre, please fill out the Landscape Architecture Community Outreach Form and Email it to:   
Prof. Steven Clarke, Landscape Architecture Community Outreach Coordinator
Landscape Architecture Program
School of Environmental Design and Rural Development
University of Guelph, Guelph, Ontario, N1G 2W1
Email:  steven.clarke@uoguelph.ca