Landscape Architecture Research and Practice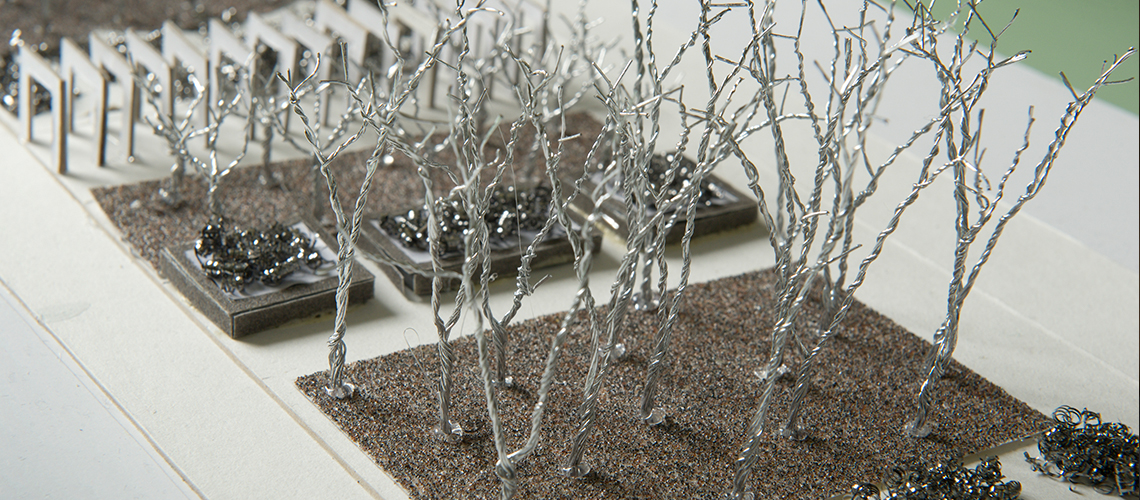 Image:  Landscape model created by MLA students, Aiden Fudge and Elias Sodersten.

SEDRD is dedicated to research, practice and education in the design, planning, conservation, preservation, management and development of cultural and natural environments in both Canadian and international settings.
The Landscape Architecture programs boasts internationally recognized faculty, complemented by practicing professionals and critics.  They have expertise in teaching, practice, outreach and research and bring a variety of education backgrounds and interests that span broad areas of the profession, adding significantly to the richness of the student learning experience at Guelph.
Students in landscape architecture undertake design and research projects focused on sustainable communities, urban design, national parks and conservation areas, ecological restoration, golf courses and waterfronts, urban parks, urban agriculture, community design, therapeutic landscapes, heritage conservation, land reclamation and remediation and tourism planning and design etc.
For more information about faculty research projects, please visit the profiles in the People section.
Centre for Canadian Landscape Architecture Archives
These important archives houses landscape architecture historical resources, ideas, and information not available from any other source.  This project aimed to make the work of such great Canadians as the Dunington-Grubbs, the Stenssons, Lois Lister, George Tanaka, Macklin Hancock, Roger du Toit Architects and many others  See details on the McLaughlin Library Archives.
Studio V Journal
Established in 2017, Studio Vantage Journal is a student-run journal of Landscape Architecture at the University of Guelph. Studio V aims to support, stimulate and showcase excellence in LA student and faculty work. It also gives space to practitioners and the University of Guelph community outside Landscape Architecture to reflect on the latest developments in the fields of landscape architecture, design, ecology, geography and beyond. The journal welcomes submissions addressing any aspect of Landscape Architecture's diverse practice and academic fields, Canadian and global perspectives alike.
The students in the landscape architecture program are collecting the amazing work from University of Guelph BLA and MLA students for the 2019/2020 edition of the Studio Vantage Journal. As we are nearing the end of the term, students should consider submitting excerpts of their final assignments and/or anything else that represents their hard work this term to the Studio Vantage team. Being published in the Studio Vantage student journal makes a great addition to a CV.
Wanted for the Studio V Journal:  
final projects

sections

perspectives

masterplans

planting plans

models

written work

photography

anything else LA related
To submit your work, visit the Studio Vantage website or email Studio Vantage.
Thank you!
Emma Kirk and the Studio V Team