Bachelor of Landscape Architecture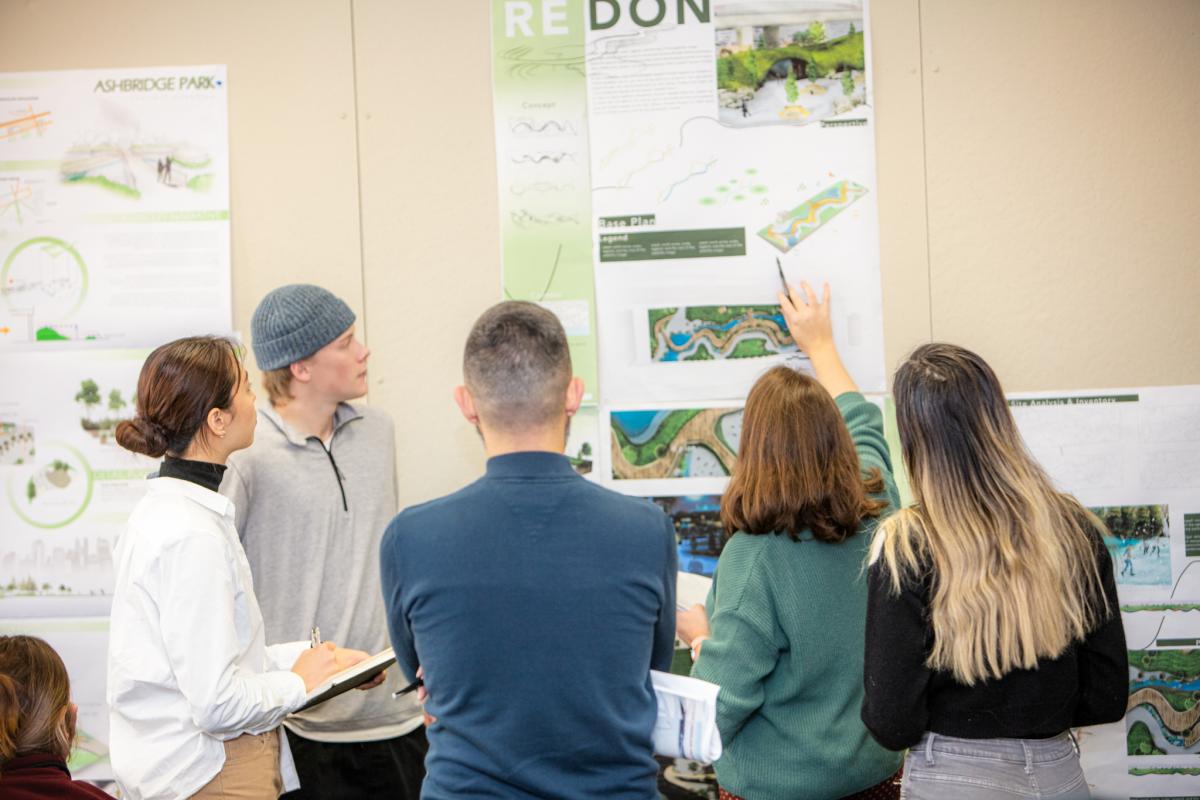 Landscape Architecture is a profession committed to the creation of meaningful and vital outdoor places and to the sustainable management of our environment.  Landscape Architects strive to establish a balance between our use and enjoyment of the land with the conservation and health of the environment.  The Profession is committed to improving our quality of life by applying creative, technical and scientific skills to manage and create environments that are attractive, functional, innovative and appropriate.  The fully accredited BLA program at Guelph leads to a professional degree that meets the educational requirements for entry into professional associations across Canada, North America and abroad.
In our four-year, full-time professional degree program, you will take lectures, seminars, field trips and studio courses. The intensive studio courses, taken every fall and winter term, allow you to practice and master what you have learned. You will work on design solutions alone or in teams, with input and critique from faculty. Through frequent presentations, you will develop verbal and graphic communication abilities of your design ideas. Students find our BLA program to be an intense and enjoyable way to learn.
The BLA honours degree program of studies addresses both the learning objectives of the University and the needs of the profession of landscape architecture. Half of the required credits are through courses given in the Landscape Architecture program; other required courses are taken from departments throughout the University. You are also able to choose nine electives from other departments on campus. This allows you to take courses in a number of disciplines or concentrate on one or two areas of interest.
There are a number of unique learning opportunities provided through the BLA program. You may earn academic credit for work in professional offices, take advantage of our international exchange program that allows students to study in many foreign countries, assist community groups by participating through the Community Outreach Centre, or become involved in social and professional life through annual conferences, field trips and events. Our program is well-equipped with output facilities, and all students are assigned their own studio workspace with 24/7 access. 
Please refer to the University of Guelph's Undergraduate Academic Calendar for the Bachelor of Landscape Architecture (BLA) overview and program requirements.
Career Opportunities
Graduates from our BLA program are in high demand nationally and worldwide as the program has an excellent reputation based on over 50 years of experience preparing students for careers in landscape architecture. Our graduates are employed by:
Landscape architecture firms
Design and planning firms
The public sector (municipalities - community planning and design)
Design-build firms (designing and constructing built works)
Communities and firms across Canada, the United States, and other countries around the world.
A growing number of BLA graduates pursue advanced degrees in landscape architecture or related disciplines.
For details on applying to the BLA program, please refer to the Undergraduate Admission website.
Find us on Social Media!
Instagram:  @uofg_landscapearchitecture
Facebook:   University of Guelph - Landscape Architecture
Twitter:  @SEDRD
What Students / Alumni Have to Say
Watch Student Profile Videos on the UofG Admissions YouTube Channel.  Learn about landscape architecture student experiences through the following OAC BLA profiles and Blog posts:
How (not) to write an undergrad thesis in 8 weeks, Emma Cervinka, blog post.
Student Tips: asking a prof to be a reference or advisor, Emma Cervinka, blog post.
Meet David, landscape architecture student, David DeBono
Meet Wafa, landscape architecture student, Wafa Somji
How to pull an all-nighter in university, Emma Cervinka, blog post.
Student Perspective:  Takeaways from LARC*4610 (Landscape Architecture Internship), Emma Cervinka
Student Perspective:  Landscape Architecture Internship, Cameron Luttikhuis
Meet Tatijana, BLA Student, Tatijana Vukovic
Meet Shelby, BLA student, Shelby Brubacher
Meet Mark, BLA student, Mark Gordon
Q&A with a landscape designer, Emil Kovacevic, BLA alumnus
Find More Information on the BLA Degree Program and the LA Profession
For information on the Bachelor of Landscape Architecture program at the University of Guelph, visit the following:
For information on the profession of landscape architecture, please visit the following links: