Meet Wafa, landscape architecture student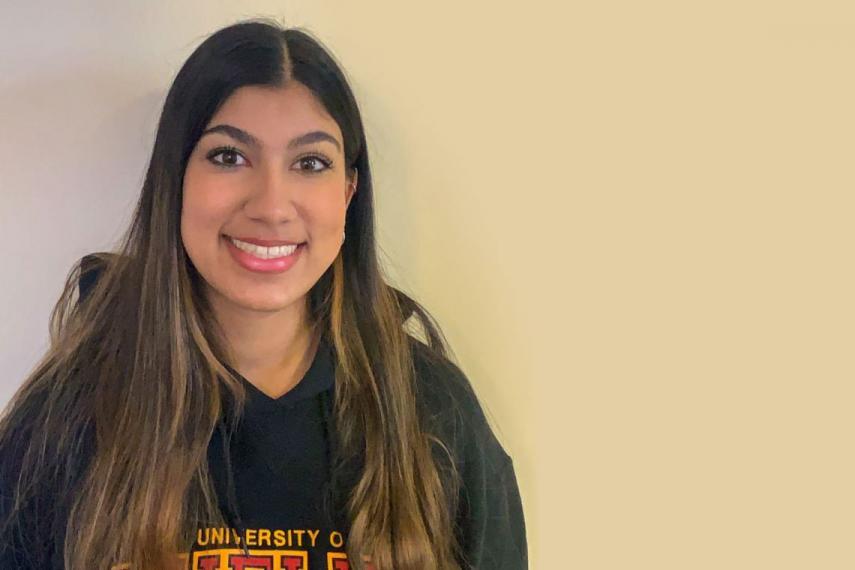 Wafa is a second year BLA student who loves hanging out at the Starbucks on campus and playing intramural sports offered through Athletics. She calls Burnaby, B.C. home but pursued her studies at U of G becuase of its unique landscape architecture program.
---
Name: Wafa Somji
Program: Bachelor of Landscape Architecture
Year of Study: 2nd year
Hometown: Burnaby, B.C.
Why did you decide to study at U of G?
I decided to study at U of G because of the amazing landscape architecture program! I loved that it combines science and design, as well as being the only accredited undergraduate landscape architecture program in Canada. I had seen that the campus was also super nature filled and I had only heard good things about the community and culture here at Guelph.
What do you like best about your program?
The small class sizes, and the one-on-ones you get with your professors. For most of my professors, we are on first name basis, and they know pretty much everyone in the class!  
In what ways are you involved on campus?  
I have been part of intramural volleyball since I came to Guelph; I found it a great way to meet new friends and it is a really fun experience. I also joined the Ismaili Muslim Students Association in my first year and am now the Social Media Ambassador and Health and Wellness Rep for that association and made some of my really close friends from it! I was also part of Telethon 2022, which was hosted by U of G Admissions, and from that experience, I got to be part of more Admissions events, such as tour days of the Landscape Architectyre building and speaking at a Spring Admissions event!
What residence did you live in during first year?
I lived in Lennox Addington during my first year! I absolutely loved it. I thought it was a great residence and met my for-life friends in that building. Something I really liked about Lennox Addington was that there was a Starbucks and food dining hall in the actual building! This was super nice during the cold wintery days when I didn't want to go outside to get food. The North side of campus was a little further from the Landscape Architecture building, but still only a 10-minute walk, which is still totally accessible.
Where is your favourite spot to hang out on campus? In Guelph?
My favourite spot to hangout on campus apart from the Landscape Architecture building would be the Lennox Addington Starbucks. Just being there brings back good memories from first year, as well as it being the one Starbucks on campus that I think is less busy than the others. I also really love the fireplace seating for doing work and just hanging out with friends! Super cozy experience there. A favourite spot I have in the City of Guelph is the cat café in Downtown Guelph. I got the chance to go there during my final's week in first year and I absolutely loved it. It's a very cute café and I am a big cat person, so it destressed me a lot.
What is a hobby/activity that makes you happy, or relieves stress?
A hobby that makes me happy is playing volleyball! I grew up playing volleyball all throughout high school and I really enjoy going to the open gyms at Guelph. I also really like hanging out with my friends, I am so lucky to have found such amazing people at Guelph that I love and trust.
What are your plans or goals after graduation?
My plans after graduation are still up in the air! I would love to travel for a bit before getting into the professional field. I would love to get a job that combines my degree (Landscape Architecture) and my minor (Project Management). I do want to get my license for being an accredited landscape architect and would also love to use my degree to travel to developing countries, or places that do not have as much development, and help advance sites in these locations.
What piece of advice would you give to your high school self?
If you don't take the chance, you will not get the opportunity! There is so much to learn from just being exposed to the educational field and it truly is so educational just being here at Guelph and learning from these amazing professors.
What's one fun fact about yourself?
I am a twin!
Share this page
News Topics