Meet Mark, BLA Student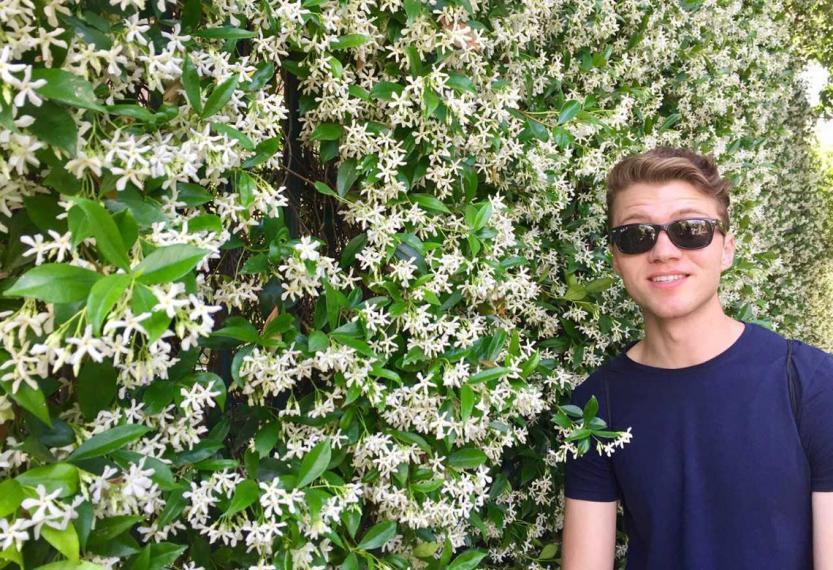 About Mark Gordon
Third year Bachelor of Landscape Architecture student Mark Gordon has a passion for the outdoors. When he isn't collaborating in the Landscape Architecture studio, Mark spends his free time at the Arboretum or Preservation Park. After university, he hopes to continue his passion for planning to enhance neighbourhoods and improve the ecological function of green spaces.
Program: Bachelor of Landscape Architecture
Year of study: Third year
Hometown: Cambridge, Ontario
---
Why did you decide to come to the University of Guelph?
While I was applying to universities I was unsure of which area of study to pursue. I had heard great things about the University of Guelph from my siblings who attended here. Once I decided on the Bachelor of Landscape Architecture program, it meant I would be attending Guelph.  I have not been disappointed with my choice. U of G has a great sense of community and good quality academics.
What do you like best about your program?
I really enjoy collaborating in the studio. There are so many components that go into each project; working as a team and sharing knowledge makes everyone's project better.
Do you have a favourite class or professor?
I really enjoyed one of the core landscape architecture classes LARC 3060 Landscape Architecture II because of the projects that involved significant ecological remediation. I am very interested in this type of work as I grew up near numerous aggregate extraction sites. I now understand that resource extraction and industrial activity cannot be avoided. They are essential to modern society and we must repair these sites through remediation and creative re-use.
Knowing what you know now, what piece of advice would you give to your highschool self?
You don't have to do everything at university to have a good time! U of G has numerous clubs and volunteering opportunities. It's better to pick a few and enjoy them than try to do too many things. 
What are your current post-graduate plans or goals?
I would like to work for a municipality in land use planning or for a private firm in site master planning. I want to be involved in the improvement of how cities and towns are currently laid out. Most current development is car oriented and there is a lot of potential for denser mixed-use projects to reduce car dependency and promote walk-ability and public transit. To put it simply, my goal is to create better neighbourhoods.
How are you keeping busy this summer?
I am presently working with one of our landscape architecture professors, Karen Landman, on a research project. We are testing out recommendations from a thesis on how to improve the socio-cultural and ecological functions of cemeteries through design and plantings. A final report with design recommendations will be presented to the Township of East Luther Grand Valley Council at the end of this summer.
How do you get involved on campus or in Guelph?
During my second year I was the treasurer for the Landscape Architecture Student Society (LASS). LASS involved a lot of teamwork but we had a great time. This past fall my class started an intramural soccer team. We weren't very good, but we had tons of fun. I also volunteered with the LINK Program through the Centre for International Placement. I helped a Swedish exchange student adjust to life in Canada and studying at U of G. I am looking forward to being partnered with another student this fall. 
Where is your favourite spot to hang out on campus?
The Arboretum is my favourite place on campus. It is a great spot to escape coursework or exams for a walk or run. I have even come across deer a couple of times. It is also interesting place to watch the seasons change throughout the school year.
Do you have favourite spots in Guelph?
My favourite spot in Guelph is Preservation Park. This park has a very nice woodland area for hiking or biking. You definitely feel like you have escaped the city when you are there.
What's one fun fact about yourself?
I am the youngest of four children who have all attended the University of Guelph. My siblings and I have diverse interests and chose very different degrees but we each lived in South Residence. My sister gave me my first tour of Guelph's campus on her last day of undergrad.
Share this page
News Topics