Meet Shelby, BLA Student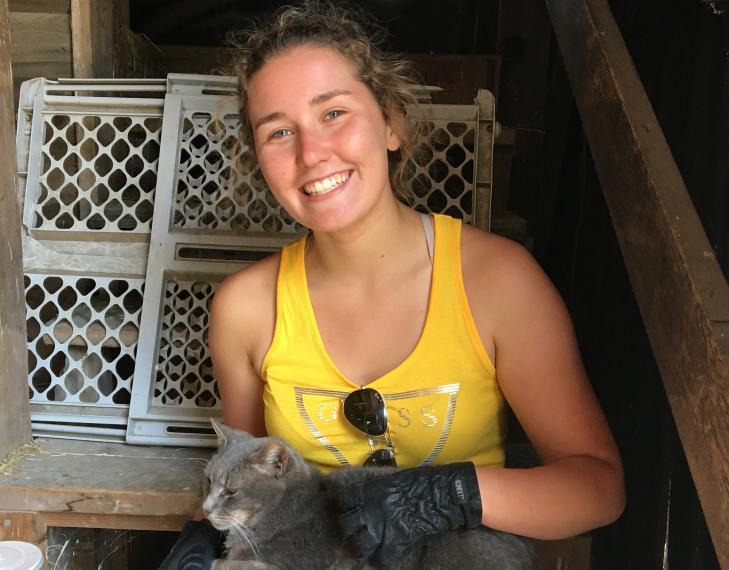 About Shelby Brubacher
Shelby is a third-year student in the Bachelor of Landscape Architecture program. Her love of being on the water and the beautiful landscapes of British Colombia is keeping her occupied this summer, but she's looking forward to returning to campus (and Ontario) in the fall!
Program: Bachelor of Landscape Architecture
Year of Study: Third year
Hometown: Ladner, BC 
---
Why did you decide to study at the University of Guelph?
I am from the town of Ladner, British Columbia, where I have spent my whole life. It was in Ladner,  during my grade nine take-your-kid-to-work day, that I discovered landscape architecture as a profession. Upon further research, I found out that the University of Guelph has the only accredited Bachelor of Landscape Architecture degree program in Canada, making it an ideal choice for post-secondary education. 
What do you like best about your program? 
The best part about the landscape architecture program is how hands-on and practical everything we learn is. In each class you are making, drawing, and doing projects that professional landscape architects do on a day-to-day basis. 
Whats your favourite form of landscape architechture?
That would have to be park design because it involves designing a space that will cater to many user groups, and is designed to act as a gathering space for the whole community.
What residence did you live in first year?
In my first year, I stayed in the East Village Townhouses on campus and absolutely loved it. I had my own room and a kitchen that was shared between me and my three housemates. It gave me the freedom to cook and not have to eat out all the time. The nice part about where the residence is located is that I would only have to wake up 20 minutes before my class started and could still get ready and there on time. 
How are you keeping busy this summer?
During the summer, when I am not in school, I head back home to Ladner, where I work as a lifeguard and swim instructor for the City. I am also working at a nursery to build up my experience with plants. When not at work, I spend time with my horse, hike mountains, and practically live in the ocean. This past summer, I even decided to throw a little bit of school into the mix and took a field course which required me to take a 10-day trip to Tofino! The course was PHIL 4160. On the field trip I learned all about environmental activism, social activism and the controversy surrounding aquaculture in the area of Tofino and Ucluelet. 
What are your post-graduate plans or goals? 
When I'm finished my degree, I have hopes to pursue a Master of Urban Planning degree and then take the Landscape Architect Registration Exam. My plan is to work as a professional landscape architect back home in Vancouver. 
Knowing what you know now, what piece of advice would you give to your high school self?
After two years at university, knowing what I know now, I would tell my high school self that I did good, and to keep trucking along because it's all worth it down the line.
What's one fun fact about yourself?
I can eat a two-bite brownie in one bite. 
 
Share this page
News Topics