Meet David, landscape architecture student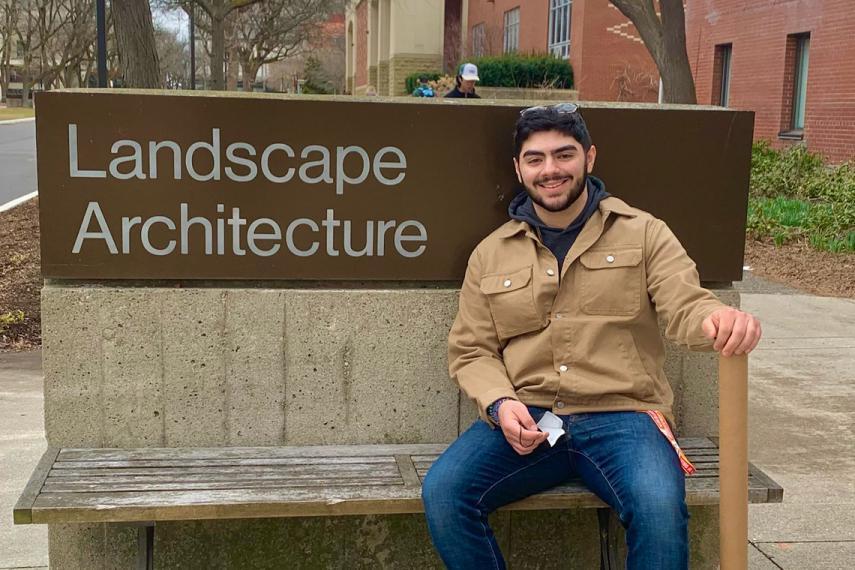 David is a third-year landscape architecture student who has found his calling in combining construction and design to create functional and beautiful outdoor spaces. When he's not in class or working in the studio you can find him rock climbing or helping to promote the BLA program at various events.
Name: ​David DeBono
Program: Bachelor of Landscape Architecture
Year of Study: 3rd Year
Hometown: Mississauga, ON
---
Why did you decide to study at U of G / landscape architecture?
When I was looking at applying to universities, I wasn't 100% sure what I wanted to do or where I wanted to go. Being a 2020 high school graduate there was lots of uncertainty about what my university experience may look like. However, as I searched through my options I kept falling back to the University of Guelph. Something about the campus, and the school felt like home. In the end it was the perfect fit for me. I have always loved the outdoors and found construction and design very interesting. I was looking into architecture programs when a friend recommended I check out the landscape architecture program at the University of Guelph. From that day on, I was fascinated by the career and the program. The idea of being able to combine my passion for the outdoors and design to create outdoor spaces sounded like a dream job. The fact that it happened to be a University of Guelph exclusive course was a major bonus.
What do you like best about your program?
The list of what I love about the BLA program is long. I love learning about the impacts of good design on our environment. From the start of a project to the finish, the process of design is something I have truly grown to love and appreciate. Through this program I have found new ways to develop ideas, and truly gained so much knowledge. In addition, what I love most about the BLA program is the sense of community. The professors take the time to get to know you, and your classmates work alongside you for all four years, growing friendships and companionships.
In what ways are you involved on campus? 
Through out my time at the University I have volunteered for orientation days, helping introduce the program and run tours for potential students. I am a member of the incredible campus gym, where I was introduced to my favourite pastime of rock climbing. In addition to this I have enjoyed participating in Landscape Architecture Student Society ever the past few years.
Do you have a favourite class or professor?
Throughout the program all of the LARC classes I have taken have been both interesting and enjoyable. The one course that I found to be a favourites was Materials and Techniques with Sean Kelly (LARC*2420). This course was early on in my studies, and a course that made it clear to me that I was in the right place. It showed us the importance of detail in design, and truly dived into the process of breaking down everyday objects, teaching us the way things are made, the many mediums we see in the landscape, and how to look at the world through the landscape architecture light. This was also the introduction of Sean, who is  director of the program. Sean has been a professor for two courses, and his style of teaching, friendliness, and overall vast knowledge of the industry has been super inspiring for me as a landscape architect candidate.
What residence did you live in during first year?
Unfortunately, due to COVID-19, my first year was completed entirely online, and I didn't stay in residence.
Where is your favourite spot to hang out on campus? In Guelph?
I have a few favourite spots on campus, but I would say I spend most of my time in the Landscape Architecture building. In addition to that I love grabbing lunch at the Bullring with friends. Some of my favourite off campus spots would be the Guelph Grotto climbing gym and the restaurant Beer Town.
What is an unforgettable university experience you've had?
Some of my most fond experiences have been through Homecoming, and time spent with friends. I have also enjoyed my experiences volunteering on orientation days, and at the Ontario University Fair representing the program.
Tell us about your internship.
Throughout my time with the Toronto Catholic District School Board, I have learned a lot about the ins and outs of landscape architecture and construction in the public sector. From shadowing meetings on the allocation of internal grants to learning how a project is born, where the funding comes from, and the steps required to develop a design and eventually construct the project. Through this, I have implemented lots of what I have learned throughout the BLA, focusing on on-site materials, site analysis, and much more. Overall, through the opportunity with the TCDSB, I have been able to be hands-on in developing, revitalizing, and redesigning school board properties all around Toronto.
Tell us about your internship vs exchange decision.
When applying to this program, the many options presented to us for our third year was most definitely a selling feature. The endless possibilities for travel, work experience, and so much more seemed exciting. I decided to apply for an exchange with a plan to still look into possible internships as well. I was eager for both an adventure and experience, so I figured I would keep both doors open. The exchange process  begins in your second year, and continues into your third year where you eventually embark on your trip. As third year came along I began working on my portfolio, and even started applying for positions. I was very unsure on which option to choose. I had received an acceptance letter form a school in Australia, but was weighing my options. Thankfully with the help of the great advisors at Guelph and friends and family around me I decided to accept a position for an internship with the Toronto Catholic District School Board. There is so much you can learn through both experiences, but for me I decided that an internship at this time was best. Through my placement I have been able to learn so much about the industry, and have been able to work alongside some great landscape architects, and even U of G alumni. 
What is a hobby/activity that makes you happy, or relieves stress?
As a landscape architecture student, many of my hobbies involve outdoor recreation. I enjoy mountain biking, skiing, hiking, and more. The hobby I do most often that acts as a great stress reliever for me is rock climbing. It is both a great physical and mental release.
What piece of advice would you give to your high school self?
I would tell my high school self that you will end up where you are supposed to be. When applying to university, it is a stressful process, and you feel like you are making decisions that will change your entire life, but in reality it will all work out in the end, and nothing is written in stone.
What's one fun fact about yourself?
I can play multiple instruments, including guitar and drums.
Share this page
News Topics