LA Guest Lecture: Susannah Drake of Sasaki
Location
Landscape Architecture Pit
Details
University of Guelph - Landscape Architecture Guest Lecture Series presents:
Susannah Drake, FASLA, Principal of Sasaki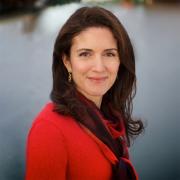 Image of Susannah C. Drake courtesy of Saski.
Susannah C. Drake is a principal at Sasaki. Prior to merging her practice with the firm, she founded DLANDstudio Architecture + Landscape Architecture. Her work has received city, state, and national AIA and ASLA awards. Susannah was awarded the AIA Young Architects Award, Fellowship in the AIA, Fellowship in the ASLA, and was recognized as an Architectural League Emerging Voice. Susannah specializes in complex interdisciplinary projects that require a synthesized, analytical, and research-based approach. Her large-scale planning work engages diverse systems to create ecologically and socially progressive projects that are rigorously researched, strategically planned, and beautifully designed.
She lectures globally about resilient urban infrastructure, and has taught at the Cooper Union, Harvard Graduate School of Design, Syracuse University, Washington University, CCNY, and the Escola da Cidade in Sao Paolo, Brazil. Susannah was the Cejas Scholar at Florida International University and 2016 Morgenstern Visiting Chair at the Illinois Institute of Technology. From 2019-2021 she was Associate Professor of architecture and landscape architecture at the University of Colorado Boulder Program in Environmental Design.
Susannah serves on the board of the Regional Plan Association. She is President of the Board of Trustees of the Clyfford Still Museum. She was appointed by Denver Mayor Michael Hancock to the Downtown Denver Advisory Board. Susannah received a BA from Dartmouth College and MArch and MLA degrees from the Harvard University Graduate School of Design. She splits her time between offices in Brooklyn, New York, and Denver, Colorado.
This lecture is supported by an SSHRC grant and the Ontario Association of Landscape Architects.
Contacts:  Landscape Architecture Guest Lecture Coordinator:  Nadia Amoroso, Associate Professor and LA Speaker Series Student Assistant: Sana Al-Naseri