Landscape Architecture Fifty Year Celebration
Details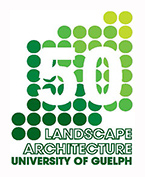 Please join us for a weekend celebration of 50 years of Landscape Architecture at the University of Guelph. Our alumni base of more than 1,500 have a special connection with their time at Guelph, the Ontario Agriculture College, and the Landscape Architecture studio environment. It's time to celebrate these connections! 
Weekend celebration plans include:
Friday, September 18, 2015
LA 50th Homecoming Reception  6 p.m. to 8 p.m.
Landscape Architecture Building
Hors d'oeuvres and (cash bar) refreshments; join student-guided tours of the Landscape Architecture studios; catch up with classmates, directors and faculty.
Saturday, September 19, 2015
LA Student Pancake Breakfast  9 a.m. to 11 a.m.
Landscape Architecture Building

No registration is required for Pancake Breakfast
Connect with current LA students as they serve you breakfast and provide studio tours. Learn about our plans for studio renovations.
Your choice of afternoon activities:
Homecoming Game, 1 p.m.
Alumni Stadium
Homecoming tickets will be available for purchase in August through the Gryphon Box Office or call 519-824-4120 ext. 53782
OR
Honey Bee Tour, 1 p.m. to 2:30 p.m.
Honey Bee Research Centre, Townsend House, 308 Stone Road East
Beekeeping research and education at Guelph began in 1894. Learn how landscape architects can improve pollination habitats for both domestic and native bees. Space is limited.  
Currently, the Honey Bee Tour is full.  Check back at a later date if space opens up.
 
LA 50th Anniversary Gala, 6 p.m. to 11 p.m.
The venue changed to the Science Complex Atrium.
This semi-formal dinner is the official 50th-anniversary celebration of Landscape Architecture at the University of Guelph. The evening includes reflections from alumni on the evolution of the profession and special guest speaker Paul Hawken.
The dinner will feature delicious, locally grown food. Space is limited, so purchase your ticket soon.
Sunday, September 20, 2015 
Arboretum Brunch, 9 a.m. to 11 a.m
Arboretum Centre 
Wrap up your weekend with breakfast at the Arboretum Centre.
Arboretum Tour, 11 a.m. to 12:30 p.m.
Arboretum Centre
Follow your brunch with a guided tour of the Arboretum.

Registration closes at 4:00 p.m. on Monday, September 14, 2015.  Get your tickets now for the weekend celebration!
For any questions, please email Martin Straathof, OAC Alumni Manager (tstraath@uoguelph.ca) or call 519-824-4120 x 56842.
Share this page
Find related events by keyword