World Town Planning Day Bus Trip to York University
Details
World Town Planning Day at York University - November 7th
Last year the RPD students at the Univeristy of Guelph hosted World Town Planning Day.  This year we are switching roles and the York University Planning program is hosting us along with planning students from the University of Toronto! This event will take place on November 7th from 11am-5pm and is FREE!!  Complimentary transportation to and from the University of Guelph will be provided (more details to come - the day will likely start around 9am for us, to account for travel time). In celebration of the 2014 World Town Planning Day theme: "Equality in the City" the OPPI Student Liaison Committee, BA Consulting Group, MYPAC (MES York Planning Alumni Committee) and York University's Master in Environmental Studies Planning Department invite you to attend a discussion on Public Transit and Equity in Toronto. The event will feature four superbly fascinating panelists who all share a common goal of bettering public transit services in Toronto using the most equitable means possible. The panelist line-up includes:
John Sewell - Former Mayor of Toronto
Maria Augimeri - Chair of the TTC
Kamilla Patrick - PhD, Outreach Director for TTCRiders
Matthew Boscariol - Vice Chair, Canadian Association of Planning Students and Chief of Staff, Chair of the TTC
Following the panel there will be a presentation on "Becoming an RPP" by David Petrie, the Executive Director of the Professional Standards Board. The event will conclude with a walking tour and discussion on the revitalization of Toronto's waterfront by Brenda Webster, Project Manager of Planning and Design at Waterfront Toronto. Attached is a poster for the event.
Panel time: 11am
PSB presentation: 12:30pm
Waterfront tour: 3-5pm
For more information please contact:
Monika Rau MSc Candidate,
Rural Planning and Development
School of Environmental Design and Rural Development
University of Guelph
email: mrau@uoguelph.ca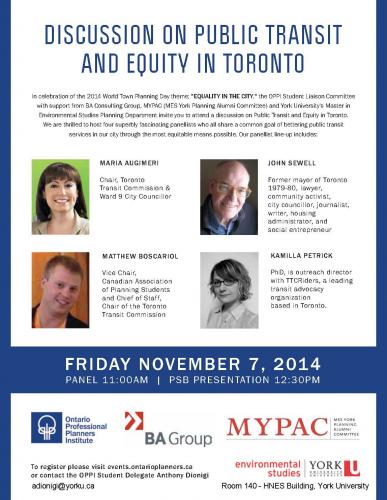 Share this page
Find related events by keyword