GREAT at U of G Presents: Ryan Edwards, Canada's Top Mentalist!
Details
Join us virtually on March 4, 2022 from 12:00pm -1:00pm as we show appreciation for University of Guelph employees with Canada's top mentalist, Ryan Edwards! Staff will enjoy an interactive show and virtual attendees will be entered to win prizes. 
Night shift staff will have the opportunity to engage in a 1-hour interactive virtual show on Thursday March 3rd at 11:00pm in Rozanski Hall 105. If you are a night shift staff ensure when you register you select "Night shift".
Ryan does not claim to be a mind reader, but instead uses all five senses to make it seem like he has a sixth sense. After 20 years of mastering the art, he is regarded as one of the best thinkers and performers of Magic and Mentalism in the World! He has used his skills to work on TV shows on Yes Tv, the Syfy Network, the Space Network, Tru Tv, and the CW.
For staff who are on campus during this time, the event will be streamed in Peter Clark Hall. Doors will open at 11:30am where staff are welcome to drop in. Starting at 12:00pm the virtual performance will be streamed for viewing! Due to limited capacity for Peter Clark Hall, entrance will be on a first come basis. Medical masks and sanitizer will be available and social distancing will be in place.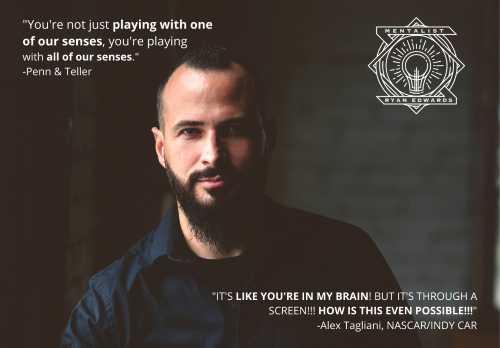 Please note all health and safety measures will be taken for the in person streaming. Peter Clark Hall will be at a 50% capacity limit. Ensure that before you come to campus you complete the U of G COVID-19 Screening Form and stay home if you experience any COVID-19 symptoms. At minimum, students, faculty and staff are required to wear a medical-style mask while on site. Cloth masks alone are currently not considered acceptable for wear at U of G locations, but may be layered over top of medical-style masks to help with fit. For more information,  visit the COVID-19 Info for Faculty and Staff page.