Fireside Chat with Lynne Skilton-Hayes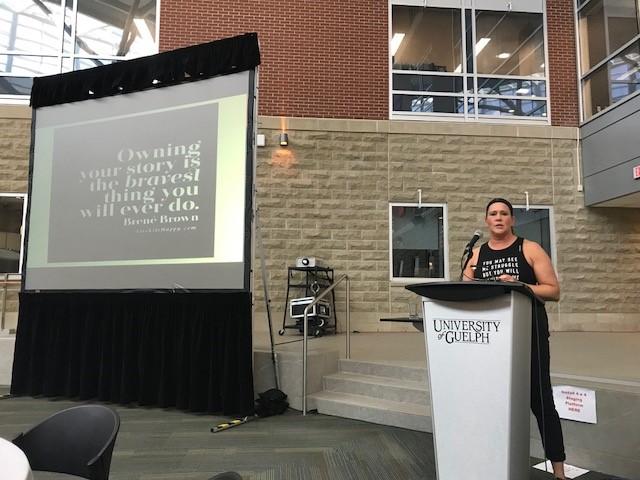 On a warm September morning at the beginning of another school year at University of Guelph, Lynne Skilton-Hayes rolls over in bed to turn her alarm clock off after an almost 8-hour sleep. She stretches her arms above her head preparing for the day ahead of her in the state-of-the-art Athletic Centre that her visions brought to life. Rather than breakfast, Lynne makes her way into the kitchen to start her day with a cup of coffee. After coffee, she blends up her smoothie for her ride to work and the fitness classes she plans to teach. Lynne finds her smoothies give her the refueling she needs when she is most in her element leading a class with a microphone on inspiring a group of people to give their best. A daily reminder of the moment she realized she had found her own inner strength when she was a lost student herself dealing with the struggles of epilepsy and needing a push in the right direction. For Lynne, this push was in the direction of Athletics and Fitness. She quickly learned the benefits it had on her but more than that – she was feeling like herself again, she was getting her life back. Despite getting out of her comfort zone, she learned more about herself than ever and discovered exercising brought her a different kind of happiness – it taught her resiliency. Even more, it was at that period of her life she decided regardless of what she was going through – physically, mentally, spiritually – she could and would overcome it.
"I feel stronger and I feel like there is nothing that I cannot do. I feel less stressed and more in control of how I feel."  A cornucopia of research supports the benefits of daily physical activity in people's lives and its effects on academics and the brain, sleep and learning, memory and retention, and emotions and moods. Lynne is a great advocate of this! Her idea of balance is "you work to live, not live to work" meaning life is more than a paycheck, a promotion, or a title – it's about being resilient to the many downfalls life brings us. Regardless of her workload, stress levels, or love for her job: "It is never at the expense of looking after/taking time for myself and for my family."
We all know prioritizing and time management can be difficult, so physical activity and wellness shouldn't have to be! Lynne is a full-time mother, fitness program supervisor and a promoter of active living! For someone who is capable of working out alone, as she often does in her home gym, she strongly emphasizes the 'power of the group' and attests it being a significant factor in staying consistent and motivated. Having a workout buddy not only provides someone to hold you accountable but makes things a lot more fun which is key to staying consistent: finding a balance! Lynne's idea of fun and winding down after a long day in the Athletic Centre is shopping, reading, spending time with her almost 10-year-old son, and going to the spa!
Here are 5 Fun Facts about Lynne:
1) It's a Saturday night, what are you up to? 
Hanging out with my son.  Maybe at the movies/dinner with a friend
2) What do you like on your pizza?
MEAT and veggies
​3)  What's a workout you'd never thought you would like?
Group cycle AKA spinning
4) Favourite workout gear?
Nike or One Tooth
5) Crunchy or smooth peanut butter?
Definitely smooth peanut better