Making Connections in the Department of Human Health and Nutritional Sciences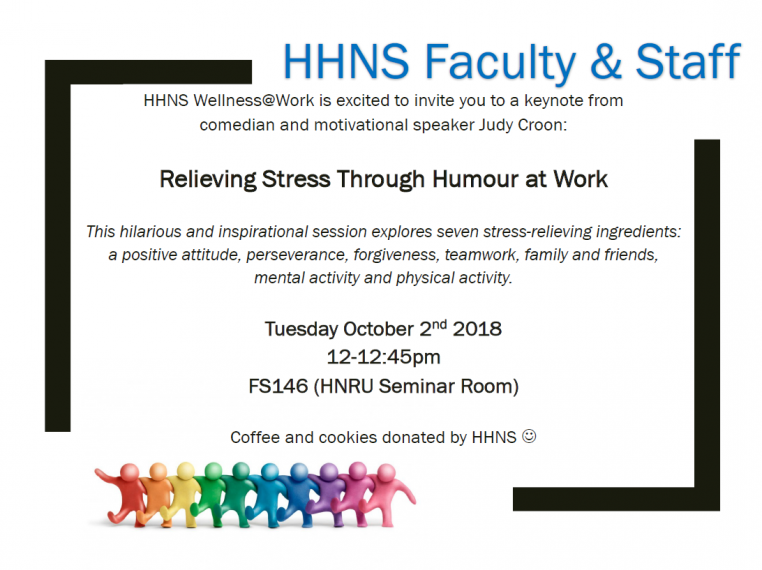 Human Health and Nutritional Sciences (HHNS) has nearly 50 staff and faculty employees, across 4 buildings on the University of Guelph main campus. The Wellness@Work grant they received in 2018 helped to further their existing workplace culture and provided the opportunity to develop meaningful relationships outside of work. The specific goals of the initiative were to:
form and develop lasting connections between HHNS employees through social activities and team building
connect within one's self through stress management and humour 
connect to the Guelph community through meal donations to families in need
The program enabled HHNS faculty and staff the opportunity to be immersed in creative health and wellness activities and it brought together people who don't usually work side by side and helped to develop meaningful relationships that can continue to cultivate. 

The health benefits were focused on mental health support, personal growth and building a healthier work environment. Through the motivational speaker, employees learned skills of managing stress with a positive attitude and using humour. Through social activities with others, they helped build meaningful relationships that transfer to their daily work. Such connections with others help contribute to an improved workplace culture and can help improve our work productivity and promote conflict management. Donating food from our lunch helped strengthen our connectedness to the local community. It inspired employees to want to continue to be more charitable. Several people donated their own additional canned goods. 

It has also inspired more of an effort to plan other social activities. There is a real momentum building in our department and people are enthusiastic about it continuing. 

Tremendous feedback was received from those whom participated in the program. Knowing that it was having such a benefit to our employees is what kept me inspired to do the work. I think the one that touched me most was after our speaker event. We had a comedian/motivational speaker for an hour session and she gave us her 7 stress-relieving tips. She had us all in tears laughing. And at the end of the session, someone came up to me to say a very sincere thank you and said exhaustedly, "I really needed that today". It reminded me that the number of people at the event didn't matter, we really impacted someone's day, and that was enough.

"It is wonderful that HHNS now has an opportunity through the Wellness@Work Initiative for faculty and staff to mingle, have fun and strengthen co-worker morale. Thank you."

What advice do you have for another department at U of G wanting to run a similar program?

1) Start early and start small! There is a lot of momentum in being awarded the grant, use that energy to host a very small kick-off event right away. 

2) There is never the right time or enough time. People will always be busy and it's hard to accommodate everyone's schedules. Try your best and know that the ones whom participate will really benefit. And hopefully they will spread the word to their co-workers.  

3) Be personal and sincere. I encouraged our Wellness Committee to send personal notes or drop by to see their co-workers to encourage participation in upcoming events. I did the same and it came from a sincere place. If someone sent that kind of note to me, it would help me feel included and want to participate.