Retreat Day: Wellness for Peer Helper Supervisors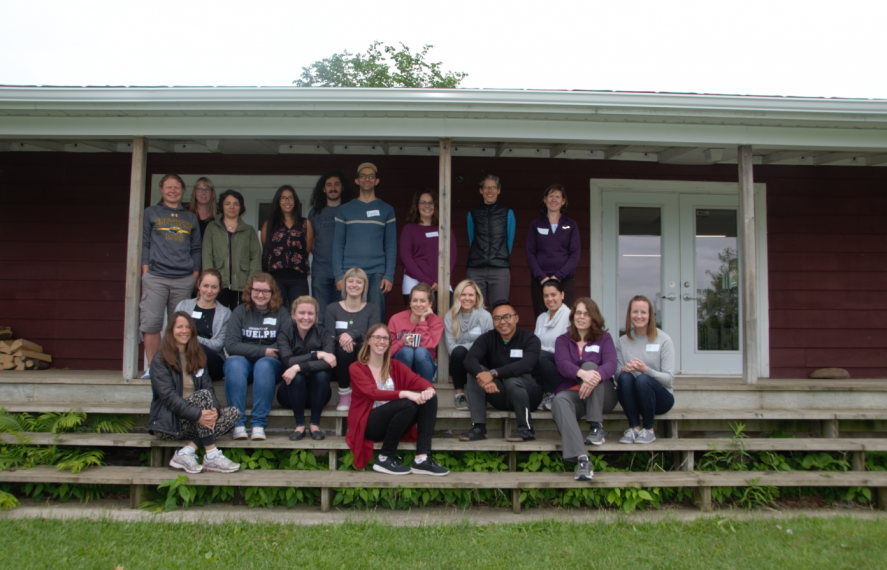 A Retreat Day was held for Peer Helper Supervisors in 2018 as part of a Wellness@Work grant received.  The retreat day was held at the Ignatius Jesuit Centre in Guelph, which is an inspiring and tranquil setting for a day of learning and building community among the 30+ Peer Helper Supervisors across campus. The day began with a Mindfulness in the Workplace session that lead Supervisors through mindfulness techniques to improve wellbeing and reduce stress.  A healthy lunch was provided and then the Supervisors were given time to either go for a hike on the property, make a healthy snack for the afternoon, or spend time in the space with others. This time was also an opportunity for sharing dinner recipes and other wellness-related resources.
The afternoon was spent with a facilitator who talked about Compassion Fatigue and how to support students build resilience as they navigate struggles with loss and mental health while also understanding the impact of compassion fatigue and learn skills to reduce it's impact.  Finally, the last initiative that was introduced at this wellness retreat was a water drinking challenge. All supervisors were given a new glass water bottle and access to a water tracking application to encourage a healthy daily intake of water.
To make it fun, we also ran a monthly water tracking challenge. Water tracking sheets were emailed out to all Supervisors and for those that wanted to participate could track their intake for the month and then submit their completed tracking sheet at our monthly Supervisor meeting. Everyone that participated was entered into a draw for either a re-usable straw or a re-usable sandwich bag.
This program provided the opportunity for Peer Supervisors to learn more about the impact of compassion fatigue and how to develop an early warning system and action plan for building their own resilience when working with students.  Additionally, the mindfulness workshop provided Supervisors with tools and resources they could easily use everyday at work or at home to minimize stress and improve resilience.  The water tracking challenge also provided an opportunity for Supervisors to be more mindful of how much water they were drinking each day.
All of this plays into not only improving the wellness of our staff, but also our students. If staff that are supervisors, mentors and coaches to our students are modeling healthy behaviours, hopefully that behaviour will have a trickle-down effect from our student leaders (Peer Helpers) to the entire student population.
What I believe to be the biggest impact that contributes to creating a healthier workplace, is simply allowing the time and space to dedicate to personal wellbeing in the workplace and time away from the office to share resources, connect on a personal level and build a sense of community among staff that have a shared purpose, but don't have many opportunities to connect during the academic year.  Building a culture of compassion and community among the supervisors; providing them with tools and resources to improve their wellbeing at work and creating opportunities throughout the academic year to continue our conversations about creating a healthy workplace and discussing ways we can support one another all contributes to creating a healthier campus.
The one thing that was said from a couple of Supervisors that really stood out was that "the retreat day actually felt like a retreat" and it was nice to have some time away from the office to focus on our own wellbeing, resilience and connect with all the other supervisors on campus. This type of retreat day allows space to build community and reminds Supervisors that they are part of a much larger and very successful program at the U of G.
When asked 6 months post-retreat day "what was one key learning from the supervisor retreat in June that has stuck with you and in what ways have you been able to practice or implement this over the fall semester?" this is what some of the supervisors responded:
listening to one another's experience
self-reflection & mindfulness practices
inspiration to pass on to Peer Helpers
you can get relief from sharing small amounts