Volunteer Connection through the Office of Research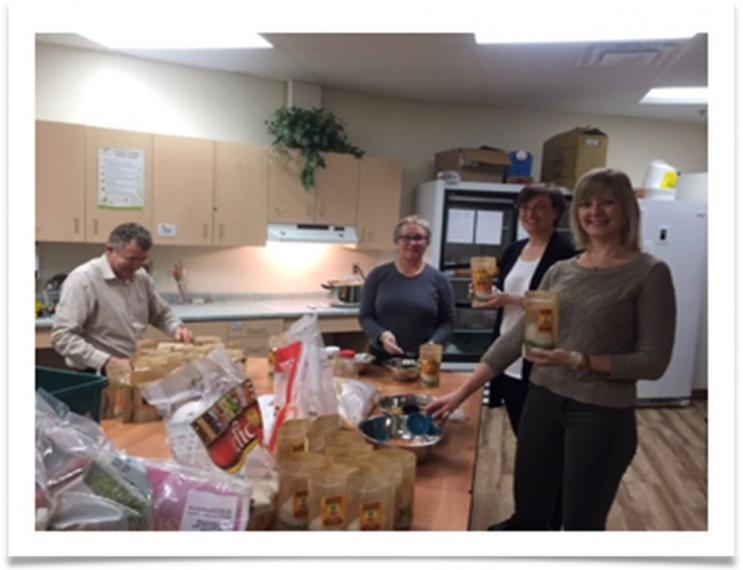 In 2018, the Office of Research launched a new Volunteer Connection program for their department, with support from a Wellness@Work Grant.
Through this program, teams of Office of Research staff volunteered for a half day at community organizations to help make a difference and also connect with colleagues in a new way. Through volunteer placements, the program supported the building of thriving communities, led to personal staff development and contributed towards a culture of well-being within the Office of Research and between the University of Guelph and surrounding community organizations.
Teams of Office of Research staff had the opportunity to sign up to volunteer across a wide variety of Organizations, including Food4Kids, The Green Legacy Project, Guelph Food Bank, Habitat for Humanity, The SEED (Guelph Community Health Center), Lakeside HopeHouse, and Guelph Humane Society. Staff had the opportunity to participate in a wide range of activities at these organizations, including prepping and serving meals to community members, contributing to different stages of building houses, helping organize and pack organization's materials for distribution and sale, and engaging with animals at a local shelter. 
The program allowed for staff to get out of the office for one half-day during regular working hours and contribute to their community. This helped to foster well-being as an individual, promoting "work-life balance", as well as growth realized from working in a team. The program helped promote team work and social responsibility amongst staff members. It aided in fostering a supportive campus environment (specifically within the Office of Research), provided opportunity for personal development, and helped to facilitate partnership with the local community. 
What did the participants think of the program?
For 86% of respondents, they were volunteering at an organization for the first time.
86% of respondents learned something new about the organization they volunteered with.
82% of respondents said they would volunteer at the organization again, if given the chance.
55% of respondents reported that they met someone new from their department through this initiative.
72% of respondents reported feeling that they made a difference in their community.
Benefits realized as a result of this volunteering initiative includes feeling socially connected, increased sense of purpose, a sense of well-being, and feeling energized.
What advice do you have for another department wanting to run a similiar program?
If another U of G department is interested in volunteering with a not-for-profit organization as part of their Wellness@Work program, we would recommend focusing on 2-3 not-for-profit organizations that can handle larger groups and have flexible schedules. This would decrease the amount of administration/organization required to make the program a success. We are currently working to determine if other departments that we work with closely would be interested in partnering with us to continue this initiative in future years.