Wellness@Work Goes Behind-the-Scenes at the UC Kitchen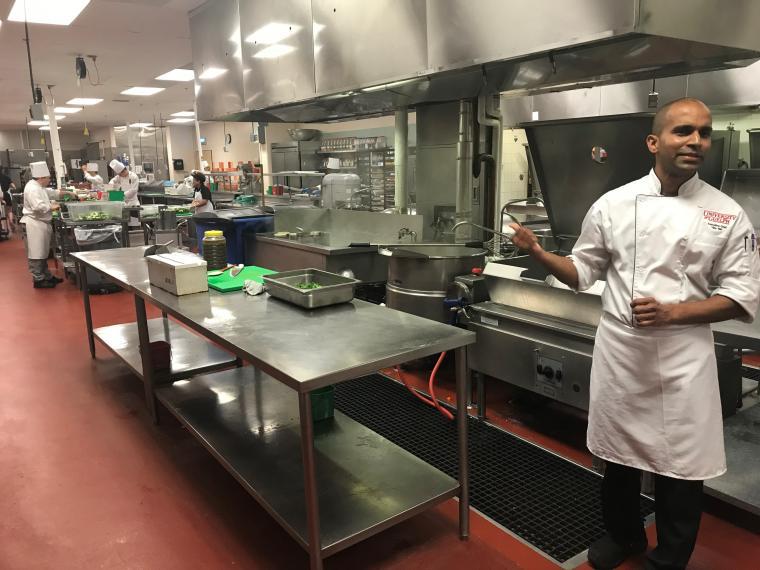 University of Guelph Hospitality Services has long been recognized as a Canadian leader for sustainability initiatives within the food service and retail operations.  For 10 years in a row, Maclean's Magazine has voted U of G the #1 Food Service University in Canada. 

Wellness@Work wanted to give employees a chance to go behind-the-scenes of the extensive food operation in the University Centre, to learn more about how the food we eat gets stored, prepared and delivered on campus.
100% of participants said the tour was very or extremely successful.  "I enjoyed being able to ask questions along the way as well as learning more about how sustainable Hospitality Services is - they are walking the talk!"

A small group were invited for the exclusive tour, led by chef Vijay Nair to learn more about the ways Hospitality is committed to environmentally friendly initiatives and social responsibility. Here are just a few of the many examples that were shared:
Many of the products are locally grown and raised.
A few examples of products that are purchased locally include:
Alma Aquaculture Centre (arctic char)
Elmira Mennonite Auction (produce)
Honey Bee Research Centre (honey)
Guelph Centre for Urban Organic Farming (produce)
Plant Ag Dept. Greenhouses (produce grown by U of G Chefs with guidance from Rodger Tschanz at Bovey Green House)
Animal Science Dept. Meat Lab (ground beef)
Building partnerships with Prof Art Hill, Prof Doug Goff and Derek Vella to incorporate U of G cheeses and ice creams in menus across campus
The chefs cook using ingredients sourced locally and in season.
Here are some of the delicious ingredients used:
100 Mile Apple Butter
Smoked Roma Tomato Jam 
Local Zucchini Relish 
Candied Bacon
Welly Beer BBQ Sauce
Niagara Peach Salsa
Signature Local Soups
Hospitality is committed to going green.
The #iamreusable campaign was launched to encourage students, faculty and staff to use a green container and stainless steel cutlery instead of disposables.  There have been 40,000+ containers purchased for this environmentally friendly initiative.
New in the Fall of 2019, Hospitality is removing all single use plastic cutlery and paper plates, bowls and paper cups to move towards reusable china dishes and stainless steel cutlery.
There are a number of programs to reduce food waste.
Coffee2Compost is a program where volunteers from the Sustainability Office collect coffee grounds from Hospitality locations on campus and bring to the organic farm on Campus for composting.
In addition, food scraps from the kitchens are composted daily to the organic farm, through a partnership with Physical Resources.
Hospitality is committed to Social Responsibility.
Edible non-compostable food is diverted to Food Banks and inedible left overs are collected by a local pig farmer for feed.  The CSA Food Bank has a station in the UC Kitchen to weigh and process food that is being collected for the student food bank.  There is also Meal Exchange support by using their buying power to purchase what the food bank locations need most.
U of G is also Ontario's first Fair Trade certified campus.
What are some ways you can help contribute to Hospitality's sustainability goals?
Be informed, reduce, reuse, recycle. Follow composting initiatives on-campus.
Help tell their story to students / staff / community.
Use reusable plates / mugs / cutlery - bring your own mug / refillable water bottle.
Follow guidelines to limit food waste.
View photos from Hospitality Services on their Flickr account: https://www.flickr.com/photos/hospitalityservices-uofg/.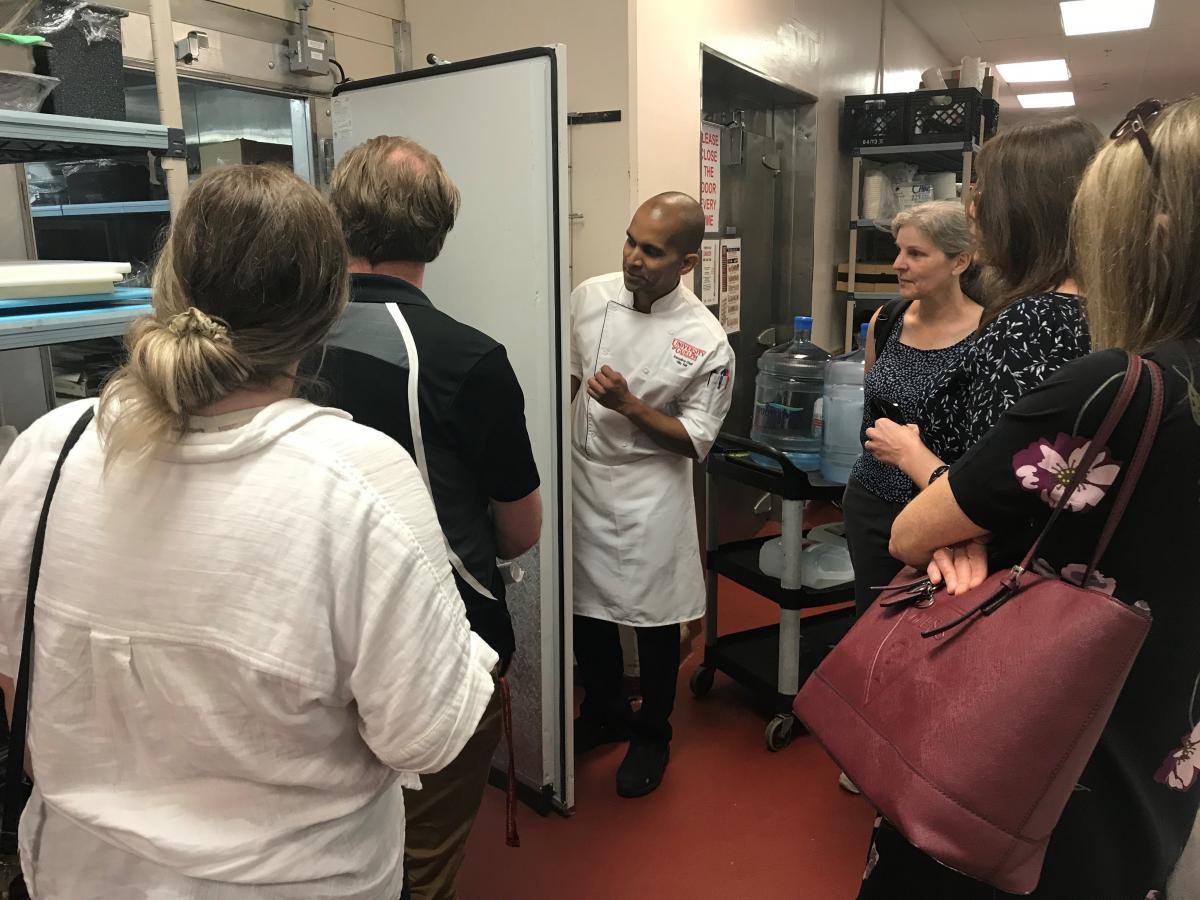 Interested in learning about other ways U of G is prioritizing sustainability?  Join the Wellness@Work ON TOUR sustainability series happening this month.  Learn more by viewing the attached poster.