Volunteer Opportunities to Stay Connected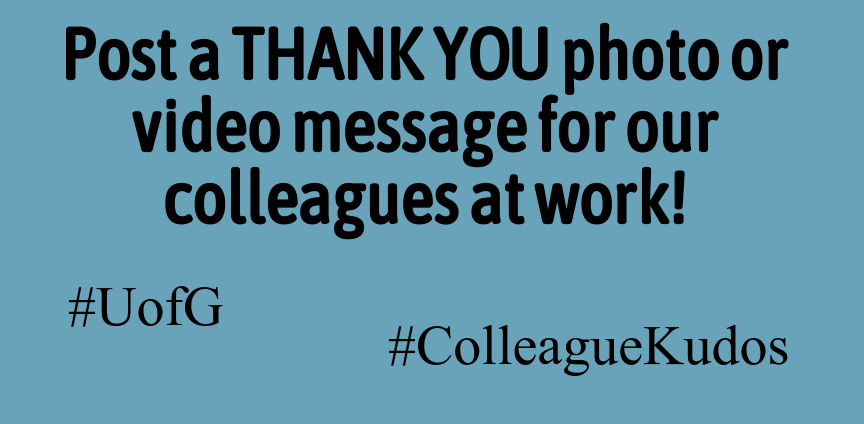 Over the last couple of months, it has been inspiring to see and hear about the ways our U of G community has come together to support one another and our community.  The article "U of G Community Helping Build Online Volunteer Connections" outlines just some of the many ways our colleagues have stepped up to support the Guelph community and beyond.

There are a variety of volunteer opportunities and ways you can help support our U of G community at this challenging time.  Below are a few of the ways we invite you to get more involved if you are interested and able to support:

Help Sew Cloth Masks

If you have skills with a sewing machine, the Ontario Veterinary College (OVC) would appreciate your help! A project is under way to sew cloth masks for employees working in OVC's Health Sciences Centre.
How to help:
Review the mask pattern available from the Centre for Disease Control.
Sew your masks.
Drop off your finished products in the bin outside the OVC Companion Animal Hospital, 28 College Ave. W.
If OVC ends up with more masks than needed, it will share extras with others working on campus as well as health-care partners and the community.

Kudos to our Colleagues at Work

If you are now working remotely, we invite you to create a THANK YOU message for our U of G employees who are still going to work at one of our campuses or research stations.  We want all of our colleagues to know how much we appreciate the work they are doing, particularly at this challenging time.

Take a photo of you holding a sign with a THANK YOU message or create a short video message and share on social media using the hashtags #UofG and #ColleagueKudos.  Post your photo or video on social media to give a special shout-out to our amazing employees who are doing such important work for our campus community. Let them know we are thinking of them and appreciate them.

Write a Letter to a Student in Residence

Student Housing is looking for short letter of encouragement (a paragraph max.) to send students living in Residence.  This could come from you individually, on behalf of your department, or if you know some community members who'd be interested in participating, they would love to hear from them as well.

These letters are being sent out to help boost morale. These letters typically provide some tips for self-isolation, advice on how to stay connected while physical distancing or just a note to let them know that you're thinking about them.

If you're interested in participating, please email your letter (paragraph) to Hayley at hmcnamar@uoguelph.ca. 

Volunteer for the New Staff/Faculty-LINK Program

Due to travel restrictions, availability of flights, financial reasons, safety, etc., there are many international students who remain isolated in Guelph. International Student Experience is launching new programs to support these students. To provide social support, they have created the Staff/Faculty-LINK program modeled after the successful LINK program which matches international students in 1-1 partnerships ​with upper-year students.

This program will match interested Faculty/Staff with international students who are feeling isolated in residence or off-campus in Guelph. The program will run throughout the Summer 2020 semester with a minimum requirement for you to check-in with the students at least once a week. This can be in the form of video chats, emails, or phone calls and could include social activities like cooking together, playing a board game online, a book club, etc. The International Student Experience team will be supporting you with regular communication and resources to help get to know each other, activity suggestions, check-in prompts, and other ideas.

They will be doing the matching on a rolling basis but would like to have an initial number of faculty/staff sign up before they invite the international students to register. For this reason, please sign up by April 30th.  View more info and register.

Guelph Coronavirus Community Response

If you live in Guelph and are looking for additional ways to give back to the community, visit the Guelph Coronavirus Community Response web page.  This site has:
A list of donations community organizations are looking for
A sign-up sheet to share any volunteer tasks you are able to take on
Social media groups supporting the community (i.e. CareMongering Guelph)
Ways you can support local restaurants and businesses
A list of supports available

Thank you for all of the small and big ways you are helping to support our campus community.  We are stronger together and will get through this challenging time by staying connected to our campus and communities.

A reminder that there are a variety of wellness supports and resources available to you. Visit the COVID-19 Wellness Resources web page or Gryphon Family website for online resources, information on EFAP, blog posts, virtual events and more.