What does GOAL 2.0. have to do with Wellness?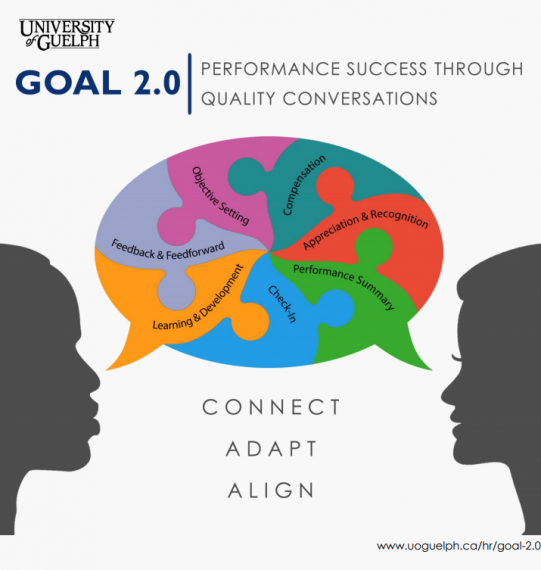 We know that the relationship between an employee and their manager can be one of the most important factors in employee success and well-being in the workplace.  Through the Wellness@Work initiative we are working towards enhancing 13 factors that impact psychological health and safety within the workplace, including:
| | |
| --- | --- |
| Organizational Culture | Involvement & Influence |
| Psychological and Social Support | Workload Management |
| Clear Leadership & Expectations | Engagement |
| Civility & Respect | Balance |
| Psychological Demands | Psychological Protection |
| Growth & Development | Protection of Physical Safety |
| Recognition & Reward |   |
Learning and Development's G.O.A.L. 2.0 (Generating Ongoing Achievement and Learning) framework and accompanying training provides employees and leaders with evidence-based tools and practices that foster a healthy and productive work environment through more frequent and effective quality conversations between managers and employees. 
When these regular quality conversations are taking place, it is likely that mangers are having more opportunities to show clear leadership, provide growth and development opportunities, recognize employees for the work they do, better understand and manage workload concerns, etc. Each of these quality conversations offers an opportunity to enhance factors related to employee wellness.  

Research conducted by Baard, Deci, and Ryan (2004) indicated that managers who were more autonomy supportive had employees who experienced greater basic psychological need satisfaction, were more engaged in their work, evidenced greater well-being, and had higher performance ratings than did employees of managers who were more controlling.

There is a clear link between GOAL 2.0. and wellness in the workplace, helping to ensure our workplace is respectful, inclusive, and engaging and that each person's safety and well-being are paramount as they contribute to the university.
Learn more about each of the 13 factors: https://www.guardingmindsatwork.ca/about/about-psychosocial-factors.
Explore GOAL 2.0: https://www.uoguelph.ca/hr/goal-2.0/about-goal-2.0.