Employee O-Month Passport Challenge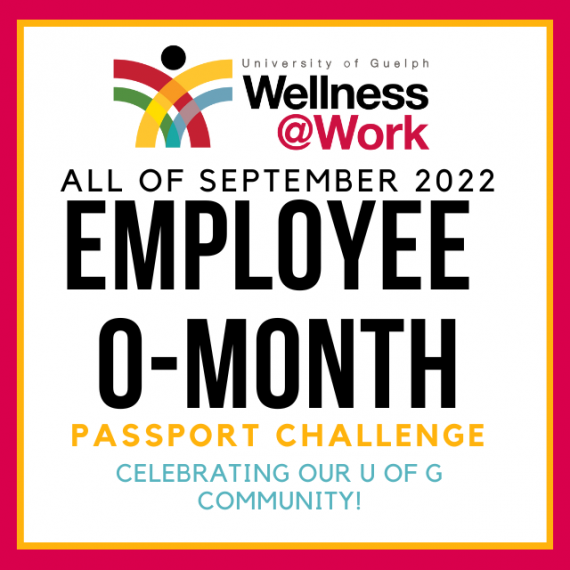 The entire month of September is Employee Orientation Month (O-Month)!
Wellness@Work is coordinating many activities to support faculty and staff to build connection, community and familiarize themselves with what makes the U of G campus a truly unique place! This includes a Passport Challenge that you have all of September to complete and enter to win some amazing prizes!
How do I participate? 
Make sure to include all your contact information on the front of the passport.
There are 9 activities to participate in that can be found on the inside of the passport. See the image of the activities from the passport below. 
You must complete all RED activities to enter the prize draws.
When you participate in activities with a green check mark you will receive a stamp. Initial the other activities yourself once you have completed them.
Many activities are on the September Wellness@Work calendar and may require registration. Make sure to register early as space is limited in many of the tours!
Submit your completed passport in person at the times and locations below and make sure to attend the Campus Mile on Monday October 3, 2022 to see if you win! The prize package draw will happen during the Campus Mile, however, if you are unable to attend and are a winner you will still be contacted. You can register for the Campus Mile now!
Where do I submit my completed passport? 
Completed passports must be submitted in-person to Wellness@Work at either of the following times:
Thurs, Sept 29 between 1 pm-4 pm at the Campus Food Market on the first floor of the University Centre Courtyard; or 
Mon, Oct 3 at the Campus Mile as we kick off Healthy Workplace Month.
What can I win? 
All the prizes listed in the prize packages were generously donated by UofG campus partners! Without these amazing departments and units, this could challenge have been possible and we would like to extend our appreciation to all of them for their collaboration. 
Grand Prize Package values at over $1700! Complete all 9 activities to enter to win: 
 Annual Red Parking Pass;
Annual NRG Athletics Fitness Membership;
VIP Dining Experience Package with a private lounge reservation in Brass Taps Pub and $120 food and beverage credit;
$50 Hospitality Gift Card;
Bookstore gift package that includes a tote, a sweater, a water bottle, and stickers; and
Arboretum Biodiversity Booklets
Prize Package #2! Complete at least 7 activities to enter to win: 
30min Massage from HPC;
Fall Produce box from the GCUOF;
$25 Hospitality Gift Card;
Gryph's Locker gift package that includes a red Nike polo, a Champion backpack, and a Gryphon's tumbler;
Honey Bee Research Centre prize basket including four 165g honey jars, skep beehive beeswax candle, beeswax ornament, and lip balm;
Arboretum Biodiversity Booklets; and
A Padfolio
Prize Package #3! Complete at least 5 activities to enter to win: 
$25 Hospitality Gift Card;
$20 Bullring Gift Certificate;
$25 Campus Food Market Credit;
Arboretum Biodiversity Booklets; and 
A Padfolio
Where do I get my passport? 
Physical copies are mailed to departments during the month of August. If you did not receive your passport, make sure to stop by the Wellness@Work table at the Community Breakfast because we will have extra copies. Or you can print the passport from the digital file we created. The file needs to be printed on both sides of a single piece of paper of a 8.5 by 11 sized paper, containing two copies of the passport. Cut the paper in horizontally in half, fold each half vertically and give another copy to a colleague who doesn't have one. 
If you require an accessible format of the passport or a larger print version, please email wellnessatwork@uoguelph.ca. 
Questions? 
Email Isidora Nezic at wellnessatwork@uoguelph.ca