Transitioning from Work-Mode to Personal Mode: Podcast Library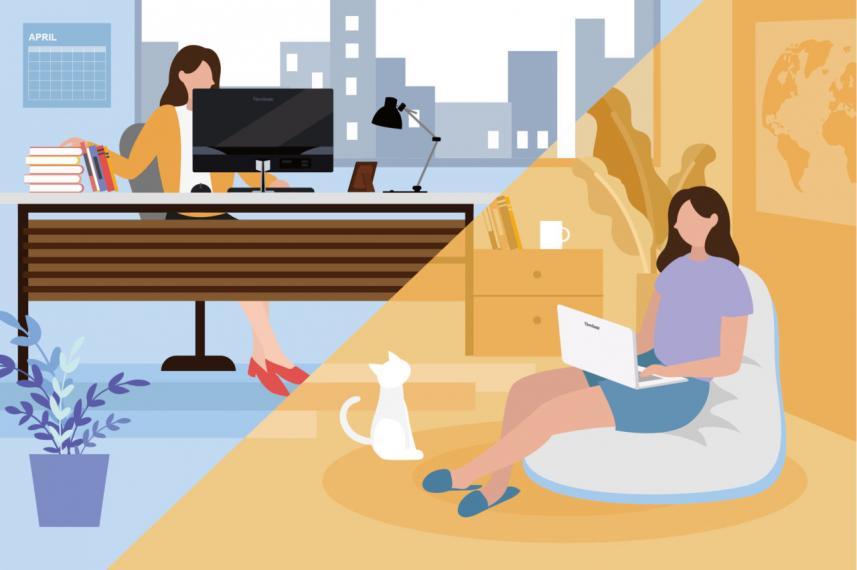 Transitioning from work-mode to personal-mode can be difficult if we have had a busy and stressful day working. It can be even more difficult for those who may be working from home and do not have a period to commute home while decompressing. Developing routines that support with the transition between work and personal, helps to develop healthy work boundaries and support work-life balance. 
What to consider to support with shifting from "work-mode" to "personal-mode":
Be consistent.

It takes time to build a habit, so consistency is the most important part of long term change along with the commitment to yourself about why you are starting to incorporate a transitioning routine. If you have a specific reason in mind why you want to begin a transiting routine, write it down somewhere and place it as a reminder for the days that you have less motivation to engage in the new routine you are building yourself. 

Notice your thoughts

It is very easy to get lost in our thoughts about the workday, all the tasks we have to do and all the interactions we've had, many of which we would consider stressful. But, our brains don't know the difference between past stressors, future stressors, and current stressors. If we are thinking of a past stressor or an upcoming stressor our brain will process and react to these thoughts as if the stressor is happening to us at that very moment. None of which can be beneficial to decompress and transition to our "personal-mode". Thoughts will come up about the work-day as you transition and that is okay. Notice them, acknowledge them non-judgementally, consider where they came from and refocus yourself on what you are doing in the present moment to make sure you do not end up in a rumination cycle about the work-day. 

Be Realistic and Find something that works for you 

Everyone is different and a routine that supports one person might not be supportive for another. Whether it is a physical commute home, picking up your children from school or after-school activities, listening to a podcast, or going for a walk, it doesn't matter as long as it works for you. Developing a consistent routine that signals to your mind that it is the end of the workday. It is important to be realistic about what works for you and what can be sustainable. 
Some Wellness@Work Programming Committee members have shared some of their favourite podcasts and episodes that might be of interest to you during your transition routine if you enjoy podcasts or are looking for a place to start. 
Some podcasts that might interest you during your transition: 
Armchair Expert with Dax Shepard

Guest: Gloria Mark (on attention spans) . 

Gloria Mark (Attention Span) is a professor, author and researcher. Gloria joins the Armchair Expert to discuss what attention is, how email can be a main source of stress, and what the study of Information is. Gloria and Dax talk about the concept of flow, what social capital on the internet is, and what the fallacy in multi-tasking is. Gloria explains how being an artist prepared her for studying psychology, how well-being should be prioritized over productivity in the workplace, and how self-interruption is a major culprit of distraction.

Smartless

Guest: Brendan Shanahan. 

Brendan Shanahan skates on in for this barnburner of an episode. "Shanny" is a former pro ice hockey player and Hall of Famer who currently serves as the President of the Toronto Maple Leafs.

The Happiness Lab:  You Only Live Once…So Commit. 

A different interpretation of the "YOLO" concept.  YOLO (You Only Live Once) is usually associated with spontaneity and doing whatever you want.  This podcast turns the tables suggesting that commitment to your life choices may be the best way to live our precious "one" life.

The Happiness Lab:  Stop Endlessly Chasing the "Next Big Thing" in 2023

Sometimes we are focused on what's to come instead of what we have.  Actor and author Tony Hale (Veep, Arrested Development) was always chasing new accomplishments, until he realised, he was missing the chance to be happy living in the moment. He used his experience to write one of Dr Laurie Santos's favourite children's books Archibald's Next Big Thing.

Work Life with Adam Grant from TED (all episodes are good!)

Re:Thinking with Adam Grant :ChatGPT did NOT title this podcast (w/Allie Miller and Ethan Mollick)

ChatGPT , the artificial intelligence chatbot capable of generating human-like text, seems to be everywhere. But how trustworthy are these tools—and what do they mean for the future of writing and working?

Maintenance Phase

Maintenance Phase is a health and wellness podcast. In each episode, hosts Aubrey Gordon and Michael Hobbes explore various topics related to diet culture, weight stigma, and fitness myths. The podcast offers insightful commentary and takes a critical and evidence-based approach to challenge common misconceptions and promote body positivity and acceptance. I love how engaging and approachable the conversation is; the hosts help to make complex health concepts accessible. A favourite episode of mine is "Glorifying Obesity" and other Myths about Fat People from January 3rd, 2023. The episode debunks the idea that fat people are lazy, unhealthy, and lack will power, and uses a historical perspective to explore how the medical community and society in general have stigmatized fatness and treated it as a moral failing. This is a wonderful, thought-provoking podcast for anyone with an interest in body positivity and acceptance! Other popular episodes include The Anti-Diet Movement, Fitness Myths, and Clean Eating.