Order Gryph Post Candy Grams for Halloween!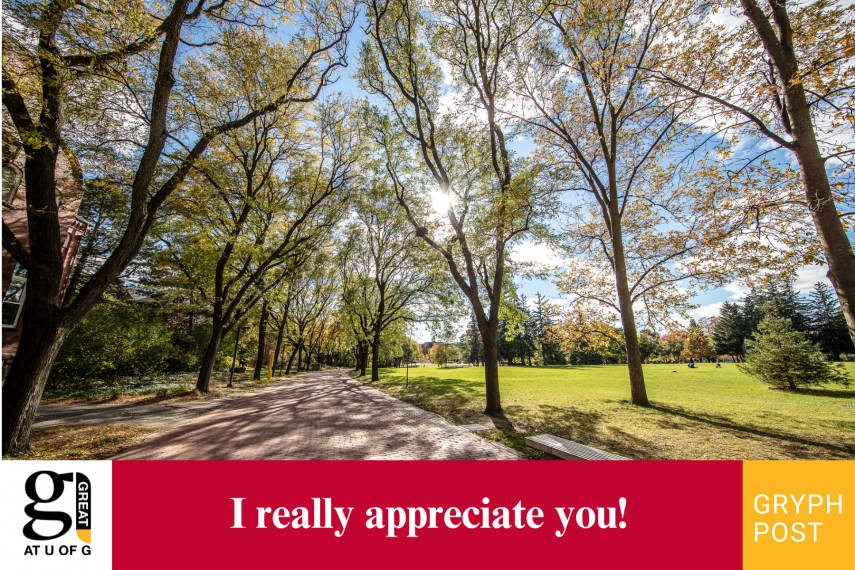 GREAT at U of G is an initiative designed to foster gratitude, recognition and appreciation for all faculty and staff at the University. On September 21, World Gratitude Day, GREAT at U of G relaunched its customized internal system to support faculty and staff success through education, facilitation, and connection. With this relaunch Gryph Posts have been introduced. 
Gryph Post is an easy way to recognize and appreciate your colleagues. How does it work? You can send a physical postcard through interoffice mail or download a virtual option and email it! Learn more about Gryph Posts on the GREAT at U of G Sharepoint Site. 
During healthy workplace month, GREAT at U of G and Wellness@Work are partnering to offer you Gryph Post Candy Grams that you can order free of charge and distribute to your colleagues you might want to appreciate or recognize. 
Order your Gryph Post Candy Grams!
What are Gryph Post Candy Grams? These are customized Gryph Posts with pre-written notes of appreciation and a piece of Halloween candy attached that you can distribute to your colleagues. You will have until October 23rd to submit your Gryph Post Candy Gram Order.
GREAT at U of G and Wellness@Work will receive your submitted orders and create packages with the number of Gryph Post Candy Grams you requested. You will then be able to pick up your package on Halloween, Tuesday, October 31 between 9:30 am-3:30 pm from the Human Resource reception desk located on the 5th floor University Centre, South Tower. 
Complete the Qualtrics order form by October 23, 2023! 
Small acts of appreciation can have a big impact on one another and research has consistently indicated that practices of gratitude, recognition, and appreciation in organizations can have a significant impact on employee wellness.
Questions
Email wellnessatwork@uoguelph.ca