U of G HFTM students win national hotel competition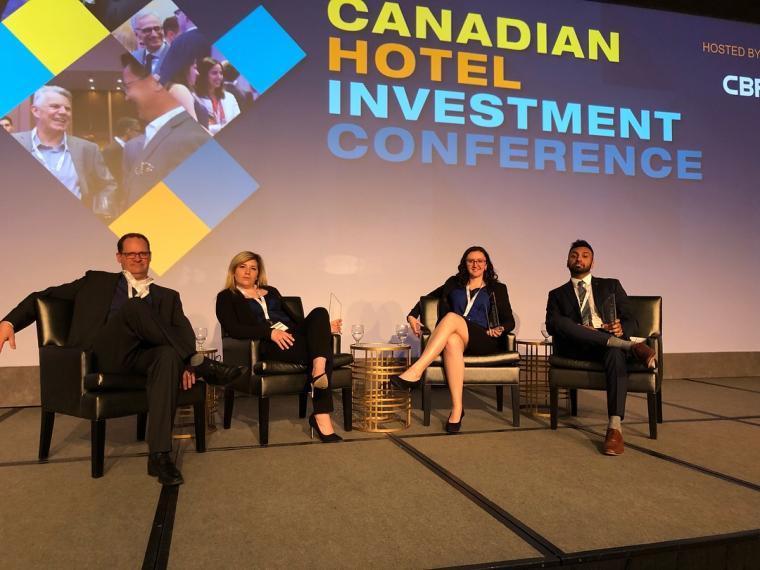 U of G business students are national champions after winning the 2018 HotelNext Canada competition in downtown Toronto on April 24th.
The competition gives Canadian University students a chance to showcase their inspiring designs on an under-performing hotel. Students chose a market, reviewed operating history, made renovation recommendations and presented a capital plan.
Team Unity – a team of three Hospitality, Food & Tourism Management students – chose to renovate and re-build a hotel in Kelowna, BC so that it was centered on creating a wellness escape for budget travelers. The team consisted of:
Amber Douel
Sahad Kassam
Shannon Bahr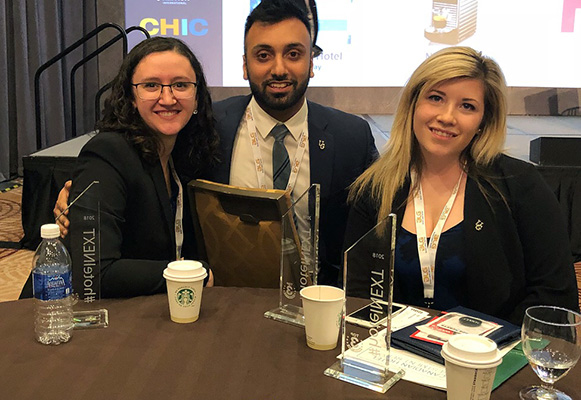 "Competing in the HotelNext competition was nothing but an amazing opportunity," says Shannon Bahr. "It was an exceptional experience to be able to represent the University of Guelph and the School of Hospitality, Food and Tourism Management in front of industry professionals."
The team presented at the Sheraton Centre Toronto Hotel on Tuesday at the annual Canadian Hotel Investment Conference, which was attended by hundreds of hoteliers from across the country.
"I was excited to represent the University of Guelph, and initially thought that I would be overwhelmed by the whole experience" says Sahad Kassam. "Instead, it was a great learning opportunity for me. I was so happy that the Canadian Hotel Investment Conference had an emphasis on education and bringing students into the face of the industry."
This win capped off a rather successful winter semester for U of G business students;
January
In January, a team of BComm students set a U of G record by winning 15 awards at the 2018 DECA U Provincial competition. The competition is Canada's largest undergraduate conference, bringing 1400 delegates from 22 universities and colleges in Ontario.
February
In February, Danielle Tyl (BComm, Marketing Management) was named the University of Guelph's Co-operative Education and Career Services "Co-op Student of the Year" for the Commerce and Social and Applied Human Sciences category in 2017. She was nominated by Amy Flood, Brand Director of Rogers Communications Inc.
On February 26th, two U of G teams took home the top prizes at the 4th annual Ryerson "Expand Your Empire" Case Competition in Toronto. The annual competition sees teams of students work together to solve a current real estate development issue. The teams consisted of students from both Landscape Architecture and Real Estate and Housing.
March
On March 26th, real estate and housing students wrapped up a semester of case competitions with the University of Guelph Undergraduate Real Estate Case Competition in Toronto. The competition hosted 12 teams from across North America. After a successful showing, U of G BComm students placed second overall in the competition.
U of G HFTM students travelled to Montreal for the Hospitality & Tourism Case Competition at UQAM, where they brought home both first place finishes, a second place finish and a third place finish.
April
In April, U of G business students were awarded one of the 17 AIM2Flourish awards – a United Nations' supported academic competition that celebrates real sustainable business innovations. The U of G students were chosen from 503 submissions from across the world.
DECA U Guelph continued their success in April, with two U of G business students bringing home multiple top awards at the DECA International Career Development Conference in Washington. The competition welcomes over 1,500 collegiate DECA members from across multiple countries to compete in case competitions focused on marketing, finance, hospitality and management. Between the two U of G students, they received seven awards at the competition.
Four Canadian teams travelled to Switzerland to compete at the Young Hoteliers Summit, including two U of G business students. At the competition, students from different institutions were mixed into teams and presented a solution to a lodging challenged in two and a half minutes. Four teams were selected by the judges to move on to the finals, which included a team with a U of G student as lead.
Congratulations to all U of G business students for these incredible accomplishments. 
Share this page
Find related news by keyword
News Topics