LA Guest Lecture: Terence Lee, NAK Design Strategies
Details
University of Guelph - Landscape Architecture Guest Lecture Series presents:
Terence Lee, OALA, CSLA, ASLA, PLA, LEED GA and Associate Landscape Architect at NAK Design Strategies
 
Lecture title: Storylines:  Projects of Meaning & Timelessness
Landscape architects have a great responsibility. Their work addresses everything from ecology, climate change, safety, security, resolving issues and creating inventive solutions to site challenges that are often in conflict with existing and proposed structures. Balancing all these issues while creating a beautiful, functional landscape is no small feat. Solving the many site challenges a project will inevitably encounter all while creating a lasting impression that will stand out as a memorable landscape requires something more. This talk will discuss the connection between story telling and designing lasting, meaningful landscapes.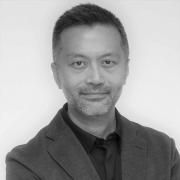 Image:  Terence Lee
With over 20 years experience, Terence has worked for the profession's most celebrated practitioners such as Dan Kiley, George Hargreaves, Peter Walker and the multi-disciplinary design firm, AECOM (formerly EDAW). Currently, Terence is an Associate Landscape Architect at NAK Design Strategies, an award-winning landscape architecture firm based in Toronto, with offices located in Ottawa, Calgary and Orlando, Florida.
Lecture kindly supported by the Ontario Association of Landscape Architects.  All welcome to attend.  

Contacts:  Landscape Architecture Guest Lecture Coordinator:  Nadia Amoroso, Associate Professor.  
Videoconference link to the lecture for external individuals:  please contact our W22 Speaker Series Student Assistant: Tatijana Vukovic.