LA Guest Lecture: Jeffrey Craft, SWA Group
Details
Landscape Architecture Programs -  School of Environmental Design and Rural Development presents:
OALA Guest Lecture Series:
Jeffrey Craft
Principal, SWA Group, Dallas, Texas
"Performance Based Landscapes, SWA Works"
Monday, October 27, 2014
at 11:30 am
Landscape Architecture Pit
Jeff is an alumnus of the BLA program at the University of Guelph.  He is a landscape architect and practice leader in planning and urban design for SWA Dallas, and is recognized nationally and internationally for his highly contextual and site-sensitive projects. Jeff offers a unique perspective to creative land-based solutions to complex design issues where cultural, social, and economic objectives often influence the design process. Acting as both project manager and lead designer he believes in a layered, research-based approach to problem solving and is adept at leading collaborative efforts to mentor young designers and staff.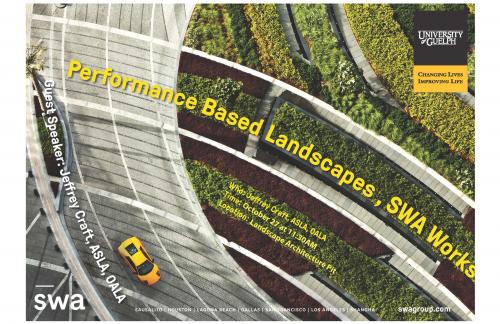 See SWA Group for more information about the firm.
This guest lecture coincides with the SEDRD United Way Chili Lunch, Silent Auction and SEDRD Musical Performance by our 'OAC Idols'.
Share this page
Find related events by keyword