From Parklet to Permanent Plaza
Kathleen Corey, a Master of Landscape Architecture graduate from the University of Guelph, is a Public Space Design Engineer with the City of Vancouver Street Activities Branch, and also currently manager of the Parklet Program, as well as design lead for pavement to plazas. One of her projects, a new public space on Bute and Robson Street called the "Bute-Robson Plaza" is a City of Vancouver partnership with the Robson Street BIA.   This car-free space is for sitting, socializing, relaxing, and holding small events. The space was identified as a potential street-to-plaza conversion in the City of Vancouver's Transportation 2040 and West End Community plans.  The City of Vancouver council has now unanimously approved that the space become a permanent plaza, and the current trial be extended until a permanent design is built.  The short VIVA video highlights the before and after comparisons of transforming Bute-Robson into a public space.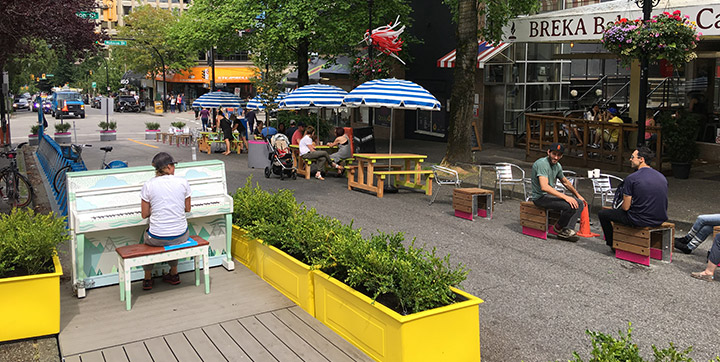 Vancouver's Bute-Robson Plaza.  Photo courtesy of the City of Vancouver.
Kathleen Corey's 2014 University of Guelph, MLA thesis titled "Making Space:  An Exploration of Parkets in North America and Vancouver", advised by Professor's Nathan Perkins and Karen Landman, focused on action research of pop-up programming in the street rights-of-way, including the direct involvement with Vancouver's first parklet, under the VIVA Vancouver parklet pilot program.