Guelph's Landscape Architecture Alumnus awarded 2018 Governor General's Medal in Landscape Architecture
The Governor General's Medal in Landscape Architecture is the highest honour bestowed on a landscape architect by the Canadian Society of Landscape Architects. The medal is intended to honour exceptional landscape architects whose lifetime achievements and contributions to the profession have had a unique and lasting impact on Canadian society.
George Dark graduated from the Bachelor of Landscape Architecture (BLA) program at the University of Guelph in 1978 and has cultivated a career most would envy.  During the past 20 years, George has developed a focus on the strategic design direction for many of North America's large scale urban regeneration and regional landscape projects; he is a Partner at Urban Strategies Inc.  George has served on multitudes of strategic steering committees, design juries and review panels for some of the most important public projects in North America. His not-for-profit and charitable sector work is an important part of George's approach to city building.  His use of "social enterprise and social innovation" as a part of his approach has made many places more diverse, accessible, livable, and economically successful.
George is celebrated for his unique style and skill at facilitation and the ability to forge consensus among various stakeholders, political interests and professional disciplines -- a rare talent that our programs' current students enjoy seeing in action; he continues to graciously offer time to the BLA and MLA programs as available, as Guest Reviewer.  George Dark is a true champion for landscape architecture, the design professions, consensus building, and students everywhere; we are very happy to say he is "one of ours."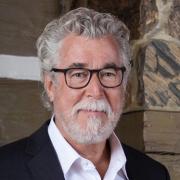 Photo:  Courtesy of McMichael Canadian Gallery
Further information on George Dark (BLA '78) can be found in the Canadian Society of Landscape Architects' press release here.