RPD Student Publishes Article on African Crop Histories and Lessons to be Learned for Reconciliation and Sustainable Development
Emily C. Sousa, an M.Sc. in Rural Planning and Development student, recently published "Contributions of African crops to American culture and beyond: The Slave Trade and other journeys of resilient peoples and crops" in the respected journal, Frontiers in Sustainable Food Systems. 
The article reviews African crops and associated knowledge of Indigenous farmers, which contributes to food and culture globally. The article also reviews African crops that have yet to be explored more greatly in global food systems for their potential to contribute to food security, sustainable development, biodiversity conservation, and climate change mitigation and adaptation. The paper focuses on crops that have histories rooted in colonization and slavery as they were migrated by people, often enslaved peoples, from the African continent to the present-day United States. Raising awareness of these crops' colonial histories in food systems today is critical in the current context of social-political movements to end systemic anti-Black racism, such as Black Lives Matter, as it intersects with agriculture and agri-food around the globe. The paper highlights opportunities for reconciliation in utilizing these crops to advance further sustainable agricultural and rural development and scientific plant breeding efforts worldwide and argues that benefits derived in doing so are rooted in the African continent and its communities.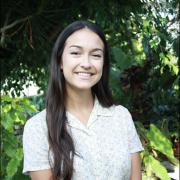 RPD MSc candidate, Emily C. Sousa
This research was conducted as part of Emily's time as a researcher with the Guelph Institute of Development Studies. She undertook an independent study under the mentorship of the Department of Plant Agriculture's Dr. Manish Raizada.