LA Graduate Selected for 2021 U Sports Female Apprentice Coach Program
Natassya Lu originally came to the University of Guelph to pursue a bachelor's degree in the International Development and to pursue her wrestling career. After her first year, she quickly realized that the program was not for her and transferred into the Bachelor of Landscape Architecture program - right next door to the Athletic Centre; these two buildings became her home for the next several years as she completed her undergraduate and graduate degrees in landscape architecture. 
Natassya credits much of her success on and off the mat to the mentors she has had during her time at the University of Guelph; the BLA program at Guelph is the only one of its kind in Canada and offers a unique experience through its small class sizes, studio opportunities, diverse faculty, and multidisciplinary community. She considers the support received from faculty, staff, and classmates instrumental in her ability to balance both her academic and athletic goals - wrapping up her undergraduate career with 2 OUA gold medals, academic All-Canadian status and graduating with distinction in the spring of 2019. During her Master of Landscape Architecture degree, Natassya also worked as a graduate research assistant and graduate teaching assistant; which she hopes to apply those same mentorship skills to a new area of focus: coaching. In early March, the U SPORTS office announced its list of 18 individuals from across the country who had been selected for the 2021 U SPORTS Female Apprentice Coach Program. The new program, funded through Sport Canada, aims to increase the number of females in coaching positions across Canadian universities, and now for the first time in U of G history, there will be a female listed on the coaching staff for the Guelph Gryphons varsity wrestling program.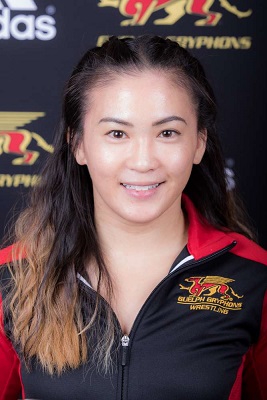 Image:  Natassya Lu
See U of G web article entitled "Wrestling Champ Selected for National Program to Increase Female Varsity Coaches" for more information.