MLA alumnus awarded the Robert N. Allsopp Urban Design Fellowship
Congratulations to Kristina Zalite, a master of landscape architecture alumnus who was awarded the inaugural Landscape Architecture Canada Foundation (LACF) 2023 Robert N. Allsopp Urban Design Fellowship for her project titled "Examining Ecological Succession and Decolonizing Approaches to Find Methods for Designing Urban Landscape Architecture Projects for Long Term Success." The LACF jury chose Kristina's submission because of her strong research track record, her immersion in key issues affecting landscape architecture work, and specifically working with Indigenous communities to learn about their traditional planting.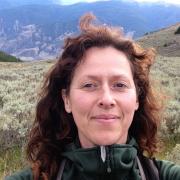 Image: Kristina Zalite
Kristina's UofG MLA thesis investigated the Nunavut Parks participatory planning process, examining the participation of local communities in the planning process used by the Government of Nunavut. 
Two other UofG recent alumni were awarded 2023 LACF research grants, including Matt Canaran, MLA, for the project entitled "Decolonizing the Arboretum:  Indigenous Tree Interpretation and Language Keeping in Allan Gardens" and Timothy Edwards, BLA, for the project "Broken Landscape/New Landscape."
See full details of the awards in the research section of the Landscape Architecture Canada Foundation website.
Landscape architecture as a profession strives to balance human use and enjoyment of land with the conservation and health of the environment. The primary goal of the LACF is to support the fundamental ideals expressed through the profession of landscape architecture.