Robert Brown

University Professor Emeritus
Find Related People by Keyword
Education: 
PhD, University of Guelph
MLA, University of Guelph
BSc, University of Saskatchewan
Biography: 
Dr. Robert D. Brown is a faculty member in the Department of Landscape Architecture and Urban Planning at Texas A&M.  He directs the Microclimate Design Laboratory, whose researchers explore how landscape designers can manipulate air temperature, humidity, wind, solar and terrestrial radiation to create comfortable outdoor spaces. Professor Brown was awarded the title in March 2018 of University Professor Emeritus in Landscape Architecture at the University of Guelph.  
Brown earned a bachelor of geography degree from the University of Saskatchewan, and a master of landscape architecture and a Ph.D. in micrometeorology from the University of Guelph, where he taught in the Landscape Architecture program from 1985-2016.
He is a member of the Saskatchewan Association of Landscape Architects, Canadian Society of Landscape Architects and a Fellow of the Council of Educators in Landscape Architecture.
In addition to dozens of published journal articles and papers, he also authored a book, "Design with Microclimate," a vital resource for students and practitioners in landscape architecture, architecture, planning and urban design.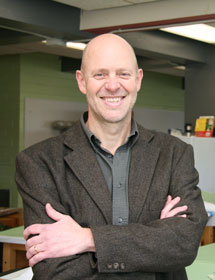 Above photo of Robert D.Brown