PhD Candidate Publishes New Book for Equestrian Riders and Coaches
Heather Sansom, a PhD in Rural Studies candidate in the School of Environmental Design and Rural Development, has recently published a new book for equestrian rider fitness and conditioning. The book is being launched by Trafalgar Square Publishing (Vermont) entitled: "Fit to Ride in 9 Weeks — The Ultimate Exercise Plan: Achieve Straightness, Suppleness, & Stamina in the Saddle—and Stay That Way".  Heather Sansom has been involved in fitness and competitive sport for over 25 years, and in equestrianism for over 35 years. She is a nationally certified life coach and fitness trainer and internationally and nationally certified equestrian coach. Heather has published dozens of articles in Canadian, American and Australian equestrian magazines.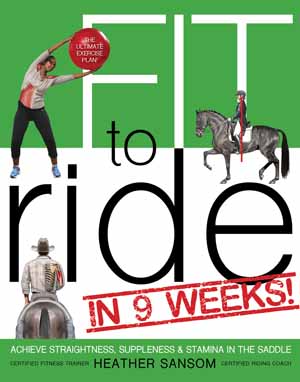 The new book is 208 pages of full colour never-before published anatomy illustrations by Canadian animal portrait artist Marg Henderson. The book has three main parts: anatomy, common riding issues, and a full 9-week progressive fitness and conditioning program for equestrians. The conditioning program is the first of it's kind published in the English language. It is subdivided by discipline type (athletic requirement) and ability (fitness level). The plan can be followed by most age groups and all riding levels from beginner to international athletes. Exercises in the book can be done from home or barn using common exercise items which are also portable for use at home or on the road on competition circuit. The training is based on eight years of coaching riders in fitness, conditioning and biomechanics, from children, to para-athletes to internationally competitive riders. Handy and readable for riders, it is also a great resource for college equestrian programs, equestrian coaches, 4-H and pony club leaders, and other support team professionals such as massage and physio-therapists and strength and conditioning coaches working with riders. The book is available through www.horseandriderbooks.com, and is expected to be available in Canada through Greenhawk or any other book or equestrian supply locations which choose to carry it.

Heather was the former Coaching Manager at Equine Canada, responsible for directing and developing the national coaching, rider education and long-term athlete development programs. She is a certified NCCP/Equine Canada Competition Coach, Centered Riding Instructor and Fitness trainer. She is also completing her doctoral research at the University of Guelph on a sport for development and animal therapy topic: resilience in youth participating in 4-H horse clubs. She is based in Kemptville Ontario. Sansom started her fitness coaching career teaching continuing education fitness classes at the Kemptville Campus, and as the volunteer conditioning coach for the inter-collegiate Guelph Dressage team.

More biographical information is available at http://www.equifitt.com/about/ More information about Fit 2 Ride is available at: www.equifitt.com/fit2ride/. Links are also at that location to the publisher's site.
Share this page
Find related news by keyword