SEDRD Graduate Programs Information Night
Details
SEDRD hosts Grad Program Information Open House Night.
The School of Environmental Design and Rural Development will host a Graduate Program Information Night for prospective graduate students on Wednesday, February 24, 2016 from 5:30 - 7:00 pm in the Landscape Architecture Building Lobby (LA Pit). Pizza will be provided.
This is a chance to learn about the graduate degrees we offer in SEDRD:
Capacity Development and Extension - MSc
Rural Planning and Development - MSc, MPlan
Landscape Architecture - MLA
Rural Studies - PhD

Faculty, current students and alumni will be there to answer questions about the programs and career opportunites.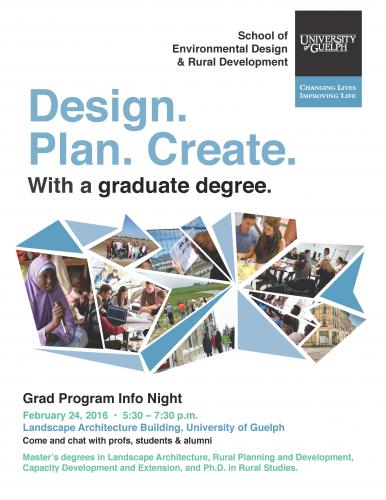 Share this page
Find related events by keyword