Visiting Grad Student Analyzes Social Media Use by Ontario Local Food Organizations
SEDRD Faculty Dr. Helen Hambly Odame and Adjunct Faculty Dr. Ataharul Huq Chowdhury are pleased to announce the successful defense by Pawandeep Kaushik, a Masters of Science student from Wageningen University in The Netherlands. Pawandeep was a Visiting Scholar in the Capacity Development and Extension graduate program from Spring 2014.
Pawandeep's thesis is entitled the "Role of Social Media in Enhancing Stakeholder's Networks and Innovation in Local Food System in Ontario". This study analyzed the role of social media in supporting innovation functions such as networking, knowledge sharing and learning among the online communities of local agri-food stakeholders in Ontario, Canada.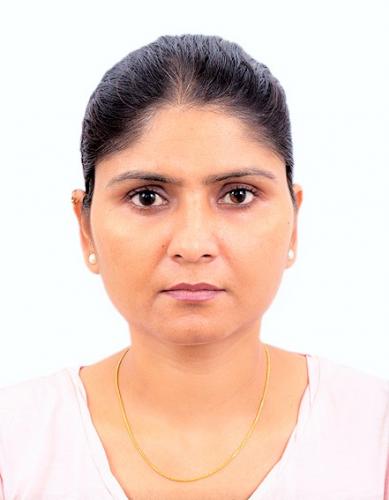 Image of Pawandeep Kaushik
Pawandeep used the applied online data mining tool known as Netlytic, developed by Ryerson University to support her data capture from Twitter and Facebook. She also used the social network analysis tool, "UCINTET" & "NetDraw" to visualize the social media interactions of four local food system stakeholders (one public extension agency, one non-profit and two small and medium producer organizations) in Ontario. Overall, her study's findings indicate that all stakeholders started with their offline contacts (either through face-to-face, or through other communication means), and then, possibly moved to online networks. Expanding social media networks was most challenging for small and medium producers because they relied on their known contacts. In contrast, the public sector and non-profit organization have established online reputations and positions in the public domain that helped drive their social media interactions. The motives for using social media were also found to vary according to the type of organization. The public sector organization used Facebook and Twitter for facilitating knowledge and information sharing that were more of their interest. In the literature we often call this "information push". The non-profit organization was the most interactive and used social media to support knowledge and information relevant to their members' interests. The small producer targeted their customers for marketing purposes, and the medium size producer used of social media to maintain its popularity and support its business growth.
We congratulate Pawandeep Kaushik on her achievements! Thank you also to Professor Annemarie van Paassen, Chair of the group Knowledge Innovation & Technology (KTI) at Wageningen University for this collaboration with SEDRD – Capacity Development and Extension. 
Share this page
Find related news by keyword