U of G Walks a Campus Mile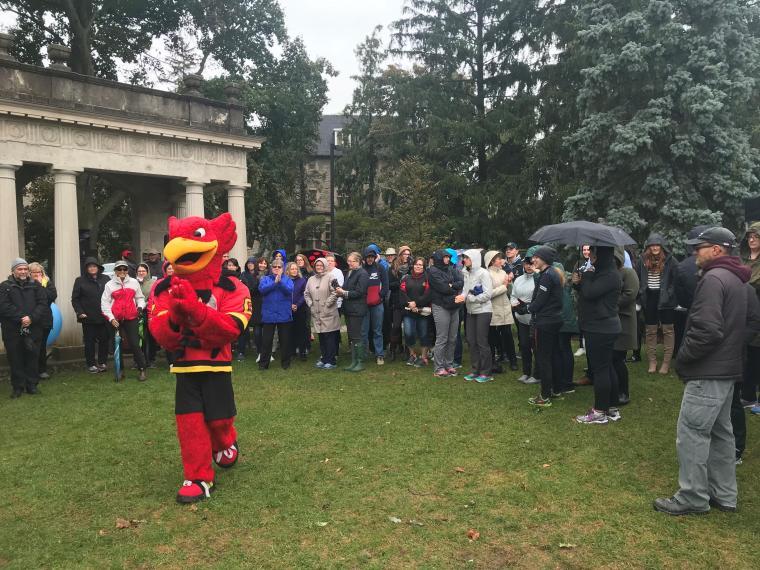 Thank you to everyone who participated in the Campus Mile: Healthy Workplace Launch Event.  We had over 100 people join on a rainy afternoon for a fun warm-up with Gryph and a one-mile walk or run through our beautiful campus. Thank you also to the United Way and community mental health agencies that came out to provide resources and information to our campus community.
One-Mile Walking Routes
The Wellness@Work Programming Committee has pulled together 3 different sample one-mile walking routes for you to enjoy throughout the year with your colleagues.  

Video Highlights
View highlights from the Campus Mile in this 10-minute video clip. 

Participant Feedback
By participating in the Campus Mile, I had the opportunity to:
get exercise during my busy day!
meet other members of campus community enjoy some exercise in their company.
step away from my desk and see people from other areas on campus.
have fun getting some exercise with friends.
connect with colleagues across campus, and get outside on a day that I would otherwise stay indoors.
​
What did you enjoy the most about the Campus Mile?
the friendly environment and actually been able to relax the mind and the body. 
having an outdoor event and meeting and mingling with other employees from different departments based on a common cause.
I liked the camaraderie and friendship shown by all participants
having a good laugh at the Gryphon mascot performing the warm-up.  Loved it!
the dance warm up! And the walk. Who knew Gryph had moves like that?!
getting out of the office and supporting my wellness
I liked the booths offered!